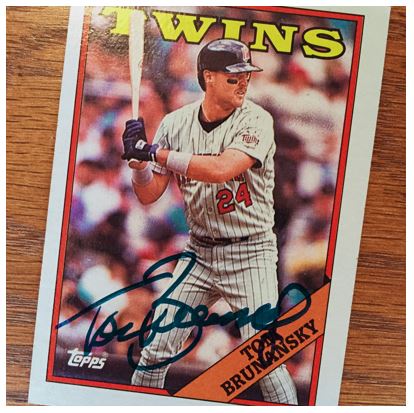 TTM Stats
Sent: 6/16/17 | Received: 6/22/17 | 6 Days
'88 Topps, '89 Topps (2), '91 Score (2)
Address: Home
The Story of the Autograph
Tom Brunansky (nicknamed "Bruno") played for a few teams over his 13 year career. I used his '88 Topps card because he played for the Twins from '82-88 and was a World Series champion with them in '87, probably his best season. He also made the All-Star team in '85 as an outfielder. Tom actually coached Poway HS in Poway, CA for six years. I just think it would be cool to have a former major leaguer coaching you in high school.
The Score on Tom Brunansky – 6.5


I like the action in Tom's signature a lot. I think I just didn't give him any exciting items to work with this time around. He always uses a quality pen. It seems in this batch he always went to the same spot to sign. I actually had to double check the dates I recorded for when I sent this because he signed so fast (6 days – WOW!).
6.5 seems fair for this batch. He's signed more exciting stuff for me in the past.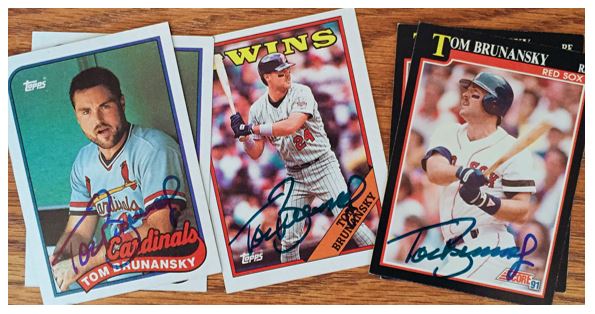 >>> READ MORE ABOUT MY AUTOGRAPH SCORING SYSTEM <<<
Thanks for visiting BravestarrCards.com: Card Collecting and TTM Autographs.