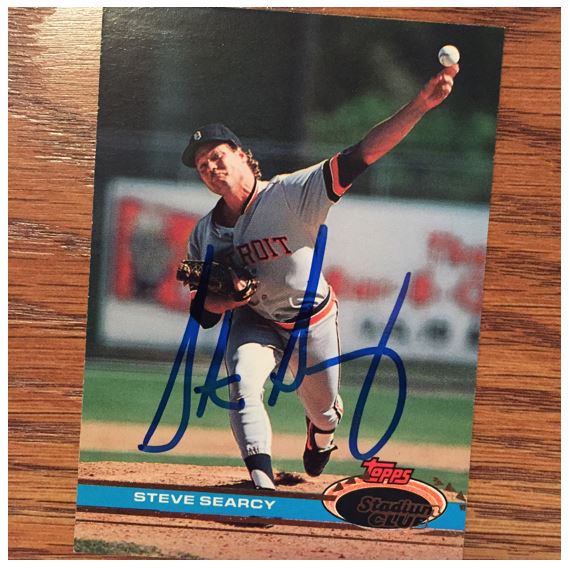 TTM Stats
Sent: 9/23/17 | Received: 10/19/17 | 26 Days
'89 Topps, '90 Fleer, '90 Topps, '91 Stadium Club, '92 Topps
Address: Home
The Story of the Autograph
Steve Searcy is a right handed person, but a former left handed pitcher for the Detroit Tigers and Philadelphia Phillies. He played in the majors from 1988 through 1992.  He has a condition called osteomyelitis in his right should so he does certain things left handed, like pitching.
After pitching well in college (for Tennessee) and throughout his time in the minors, Searcy was made his debut in August of '88 while the Tigers were in Chicago. He only started two games that year. He had arthroscopic surgery and didn't pitch again until June of '89. The first few appearances were out of the bullpen and then he picked up his next start and first major league win against the Twins in September of that year. From there he was in and out of the majors with the Tigers and could never hold on to a job in the rotation or in the bullpen. He was granted free agency and moved on to the Phillies in the middle of 1991.
In Philly in 1991 he finished the season OK and that earned him a contract for 1992. However, '92 was not a great year with no wins or losses and 6+ ERA. The Phillies traded him to the Dodgers where he was sent to the minors. Searcy never made it back to the bigs after that.
The Score on Steve Searcy – 5.5


Steve is lucky to have one of those duplicate initial names. Those just always look great on a card. He signs really big on every card which is great. I don't see any smears or bleed or anything like that. I think other than the "future star" card that is a bit dark, all of the others take an autograph pretty well because they are light in color and don't have much action.
This is a really solid auto and works great on a card or flat. Thanks Mr. Searcy… 5.5.

>>> READ MORE ABOUT MY AUTOGRAPH SCORING SYSTEM <<<
Thanks for visiting BravestarrCards.com: Card Collecting and TTM Autographs.