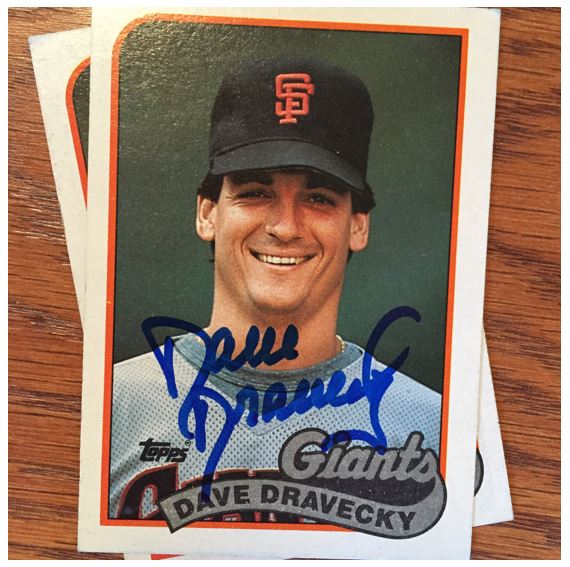 TTM Stats
Sent: 9/22/17 | Received: 10/20/17 | 28 Days
2 '89 Topps
Address: Home
The Story of the Autograph
Dave Dravecky  had a nine year career in Major League Baseball and played for the San Diego Padres (1982-1987) and the San Francisco Giants (1987-1989). His story of his career is both tragic and inspiring.
As a left-handed pitcher with the Padres, Dravecky was an All-Star in 1983 and was good as both a starter and reliever, winning 14 games that year. In 1984 he helped the Padres to the NL pennant.
Dave was acquired by the Giants via trade along with Craig Lefferts and Kevin Mitchell in 1987 for Mark Grant, Mark Davis and Chris Brown. He went 7-5 for the Giants the rest of the year. In the postseason he pitched a shutout in Game 2 against the Cardinals and then lost Game 6 1-0. The Giants lost the series in seven games.
In 1988, doctors found a tumor in Dravecky's pitching arm. He underwent surgery a the end of the 1988 season where they removed have of his deltoid muscle and froze his humerus bone to try to beat the cancer. While the doctors advised him to wait until 1990 to pitch again, Dave was determined to pitch in the 1989 season. He came back in the minor in July of 1989 and on August 10th he returned to pitch eight innings in a 4-3 defeat of Cincinnati.
In the next game, tragedy struck. It was five days after his comeback start and the team was in Montreal. He pitch three innings of no-hit ball. In the fifth inning he felt something in his arm and in the sixth inning he gave up a homer to the leadoff batter and hit the next batter. On the first pitch to the next batter his humerus bone snapped, he collapsed on the mound, and his season was over. I remember seeing it (not live), but it was probably the most gruesome thing I had seen in my life to that point.
The Giants went on to win the NL Pennant in 1989 and Dravecky broke his arm again in the post-game celebration. Doctors found another malignant mass in his arm, forcing Dravecky to retire from baseball. After a few more surgeries and his arm continuing to not be right, doctors amputated his arm.
Today Dave is a motivational speaker and author.
The Score on Dave Dravecky – 7.5


Dave has a great autograph. I don't think I've seen it come out badly on a card ever. It's always pretty crisp because he uses a good marker, he makes it a good size and everything. It's got a little bit of flair to it but not too much. Those "D's" are pretty consistent and that little zigzag on the tail of the "y" is great. Another great signature from someone with first and last names that start with the same letter.
Thanks Mr. Dravecky. Always top notch – 7.5!
>>> READ MORE ABOUT MY AUTOGRAPH SCORING SYSTEM <<<
Thanks for visiting BravestarrCards.com: Card Collecting and TTM Autographs.