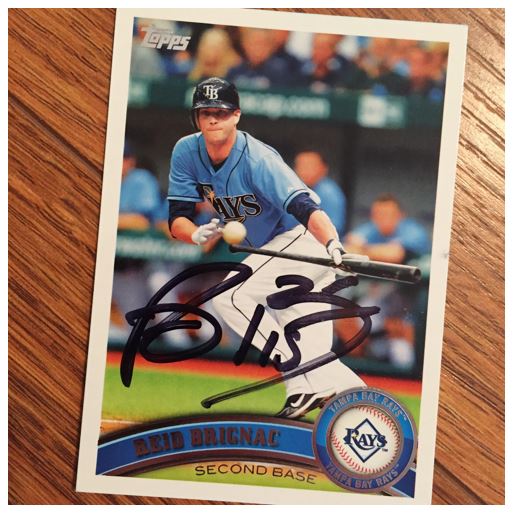 TTM Stats
Sent: 8/16/17 | Received: 8/31/17 | 16 Days
'11 Topps, '11 Topps Heritage
Address: Fresno Grizzlies
The Story of the Autograph
Reid Brignac has had the definition of an up and down career. After starting his career in the Rays organization and being up and down from the minors from 2008-2012 with that organization, Reid has done more of the same with 6 other teams. He's be traded, DFA'd and signed to minor league deals and gotten a little playing time in the majors.
So let's focus on the positives. Mr. Brignac's best day ever (baseball-wise) in the majors was possibly September 14, 2009. While playing against the Baltimore Orioles he hit his first home run. Not only that he finished 4-4 with three RBI, a run, a stolen base, and was a triple shy of hitting the cycle. That's a full day right there. Then almost a year exactly later on September 13, 2010, he hit a walk-off homer against the Yankees to put the Rays in first place in the division a half game ahead of the Yankees (which the Rays ultimately won that year ending up a game ahead of the Yankees). Interesting that is was almost exactly a year later.
The Score on Reid Brignac – 6.5


I think normally I like more of a full signature. But I'm also a sucker for some nice big ol' letters and a number inscription. Reid's "R" and "B" are classically big. And related to that number, I love the way he sneaks it into the loop of the "B." I think this is a pretty good one.
Thanks Mr. Brignac.  I'll give you a 6.5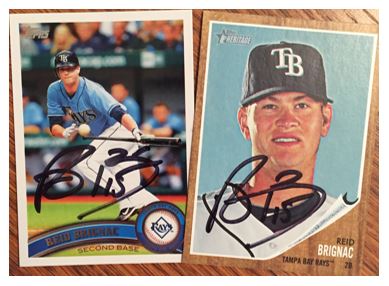 >>> READ MORE ABOUT MY AUTOGRAPH SCORING SYSTEM <<<
Thanks for visiting BravestarrCards.com: Card Collecting and TTM Autographs.