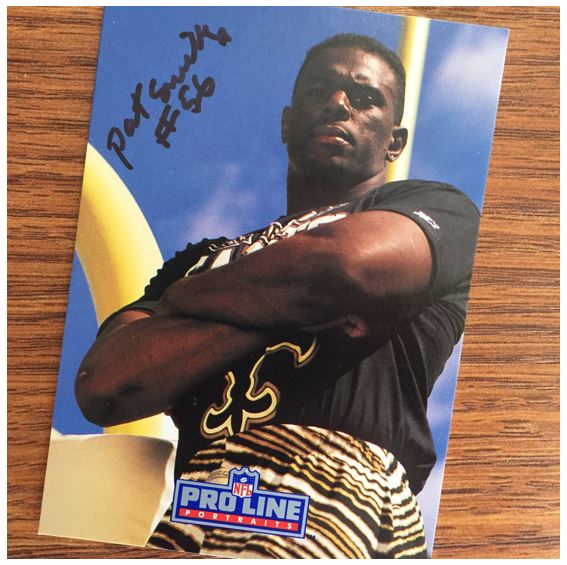 TTM Stats
Sent: 12/22/2017 | Received: 1/2/18 | 10 Days
'91 Pacific, '91 Pro Line, '91 Pro Set P
Address: Home
The Story of the Autograph
Pat Swilling played linebacker for the Saints, Lions and Panthers over a thirteen year career from 1986-1998. He was a Pro Bowler and eventually a Defensive Player of the Year for the whole league. And if being a great athlete isn't enough, Pat would also serve as a member of the House in Louisiana from 2001-2004.
Swilling played for the Georgia Tech Yellow Jackets in the early to mid-80's and set the NCAA record for sacks in a game with seven. He also set the GT sack number for a season at 15. He left school as the their all-time sack leader and today he ranks fifth. All his success at Georgia Tech lead to him being picked in the third round of the 1986 NFL Draft by the New Orleans Saints.
During his time with the Saints he was part of the Dome Patrol (Rickey Jackson, Vaughan Johnson, Sam Mills, and Swilling). They were a great defense but they couldn't help the team get past the first game of the playoffs. From 1989 to 1993 Swilling made all of his Pro Bowls and all but the last was when he was with the Saints. In 1991 he led the league with 17 sacks and he was named the NFL Defensive Player of the Year.
He was traded to the Lions in 1993. Even with the Lions Swilling couldn't get past the first game of the playoffs. Pat lost all six playoff game that he played in and no other player in NFL history has more losses without a win.
The Score on Pat Swilling – 5.0


Pat has a fine autograph but my only issue with it is how small it is. In some ways it works because on the Pro Line and Pro Set Platinum cards he really found the place that works for a signature. With all the black on those cards it wouldn't take a black signature as well. But the Pacific card could have really taken something bigger. And that really shows you that Pat probably signs smaller on cards. That said, at least he signs his name. This is where I get torn, I like a real autograph like this instead of some small scribble. He uses a good marker and if small is the only bone I have to pick that's OK.
Thanks Mr. Swilling! These get a 5.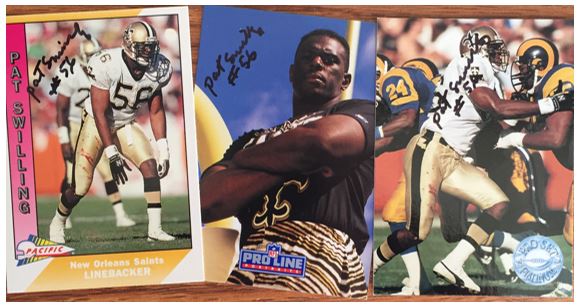 >>> READ MORE ABOUT MY AUTOGRAPH SCORING SYSTEM <<<
Thanks for visiting BravestarrCards.com: Card Collecting and TTM Autographs.