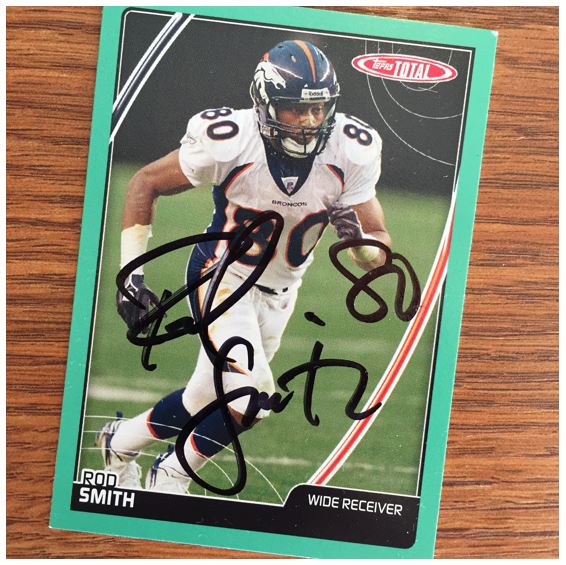 TTM Stats
Sent: 12/13/2017 | Received: 1/2/18 | 19 Days
'07 Topps Total
Address: Home
The Story of the Autograph
Rod Smith played wide receiver for the Broncos for 13 years and is a great story of one of those guys that went to a small school, went undrafted, and became a great player with a long career. He grew up in Arkansas playing football and basketball in high school. For college, Smith went to Missouri Southern State University and had a great career, finishing college with conference records for yards and touchdowns. He was even a finalist for the Harlon Hill Trophy given to the top Division II player. That was during his senior year when he caught 63 passes for nearly 1,000 yards and 13 touchdowns.
Rod was undrafted in 1994 and was signed by the Broncos as a free agent. In 1995 it didn't take him long to make a big impression by catching a last-minute 43-yard touchdown catch from John Elway. Over the years he would have eight seasons with at least 1,000 yards and two season of at least 100 receptions. He and Ed McCaffrey became only the second wide receiver tandem to get 100 receptions in the same year. Among his team accomplishments with the Broncos are back to back Super Bowls in 1997 and 98 when he was a starting wide receiver. He had five receptions for 152 yards (tied for the fifth most in Super Bowl history). That included an 80-yard touchdown reception.
In 2006 Mr. Smith suffered a hip injury and would need a complete hip replacement. He would need a second surgery in 2007. He was forced to retire and was one of the best-liked Broncos and is now in the Broncos Ring of Fame.
The Score on Rod Smith – 7.0


What I like best about Rod's signature is how big it is. He uses all the space that he can get on the card. I think this card really helps too. He has an all-white jersey and in general the card is pretty bright. That all helps make that strong Sharpie really stand out. This is the first card I've gotten back from Rod, but from what I've seen he is a pretty reliable signer and he would be a good guy to start TTMing with. I'm really glad I sent this out. Unfortunately I don't know how many more Rod Smith cards I have.
Thanks Mr. Smith! This one gets a 7!
>>> READ MORE ABOUT MY AUTOGRAPH SCORING SYSTEM <<<
Thanks for visiting BravestarrCards.com: Card Collecting and TTM Autographs.