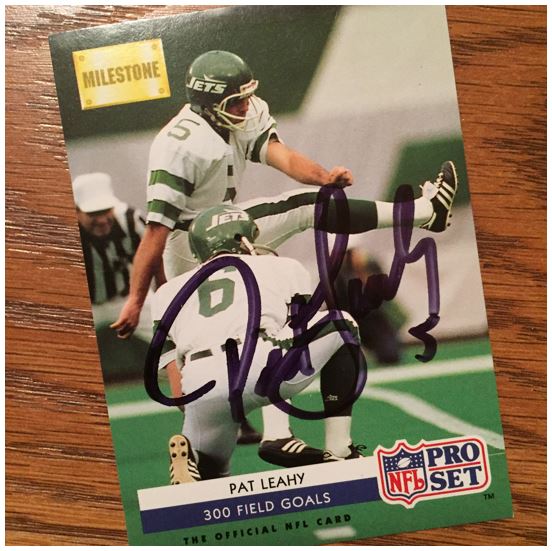 TTM Stats
Sent: 12/27/2017 | Received: 1/8/18 | 11 Days
'86 Topps, '89 Topps, '91 Pacific, '91 Pro Set, '92 Pro Set
Address: Home
The Story of the Autograph
Pat Leahy kicked field goals and kickoffs for the New York Jets his entire career. Starting in 1974, he would play for the Jets through the 1991 season (18 seasons) and become not only the teams highest scorer, but also one of the top in the league in career scoring.
Pat went to St. Louis University and played soccer. He was part of three national championship soccer teams. His first year with the Jets he only played in six games and his field goal percentage was his lowest ever at 54.5%. I would imagine kicking is tough with the pressure, and for a rookie probably even more. But 50% also seems as though it would be touch to bounce back from.
I wouldn't say that Pat was a long kicker, but sometimes how that plays out depends on your coach and his decisions. Pat's longest field goal was from 55 yards, but his longest of a season only went over 50 three times and that didn't happen until 10 years into his career.He even had a year where 34 yards was his longest field goal, that was a shortened season for him though.
Eventually Pat would be selected as a First-team All-Pro in 1978. He would go on to make 71% of his field goals and 95% of his extra points to score 1470 points total. That made him the teams all-time leading scorer and was 20th on the list of NFL career scoring leaders (currently 24th).
The Score on Pat Leahy – 6.0


Sometimes you think a card is going to take an autograph pretty well and it doesn't. A lot of times the cards can be too busy or dark to make it really look good. In my opinion that's the main reason some of these aren't a little bit higher for a score. The '91 cards are just a little two busy, especially with the way pat signs. That big thick marker, which is just a little too dull on some of these, doesn't cut through the business. That said these are pretty good in general. Pat has a pretty big signature so he's using the space he has.
Thanks Mr. Leahy! These get a 6.

>>> READ MORE ABOUT MY AUTOGRAPH SCORING SYSTEM <<<
Thanks for visiting BravestarrCards.com: Card Collecting and TTM Autographs.