TTM Stats
Sent: 12/23/2017 | Received: 1/8/18 | 15 Days
'91 Pacific, '91 Pro Set Platinum, '93 Topps
Address: Home
The Story of the Autograph
Eric Metcalf played running back, wide receiver and was a kick returner in the NFL from 1989 though 2002. Over those 13 years (he didn't play in 2000) he played for seven teams: Cleveland (1989-1994), Atlanta (1995-1996), San Diego (1997), Arizona (1998), Carolina (1999), Washington (2001) and Green Bay (2002).
After playing for Texas in college Metcalf was drafted in the first the first round by Cleveland with the 13th overall pick. And while he had some good years as a runner and receiver, some of his best work was done in the return game. In just his second season in the NFL he led the league in return yards with over 1,000 and two touchdowns. He also led the league in punt return yards four different times. At the time he retired he had over 17,000 all-purpose yards and was in the top 10 all time in that category. He had 12 returns for touchdowns overall and that was good for the third most in the league behind Devin Hester and Brian Mitchell. And he's the only player ever to have 7,000+ yards on offense AND on returns.
As a receiver Eric's best season was 1995 in Atlanta. He gained almost 1,200 yards on the ground and scored 8 times. As a rusher his best season came in either his rookie season (1989) or 1993, both of which were in Cleveland. He topped 600 yards in both of those years and score 6 touchdowns in his rookie season. But in 1993 it took him almost 50 carries less to get there and he average more than a yard per carry more than that rookie season. And finally as a returner his best season for yards would be 1998 in Arizona with 1,500+ return yards. But in 1997 he score the most punt return touchdowns from punt returns with three for the Chargers.
The Score on Eric Metcalf – 6.5


Looks like Eric is a "put the number in the loop" kinda guy. I like it when the signature works out like that. I like Eric's signature a lot and it's a good size. I took a little off because of the quality of the marker and in reality, two of the cards are a little dark for a signature. The actually look much better on the computer then they do in real life. This was a good return though.
Thanks Mr. Metcalf! I'm giving this return a 6.5.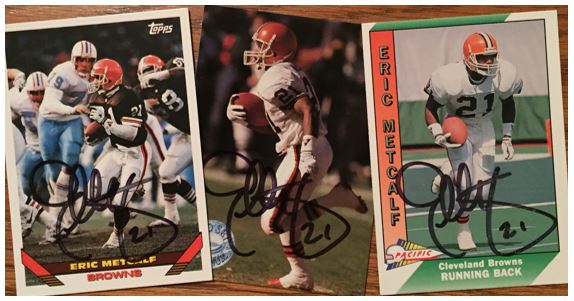 >>> READ MORE ABOUT MY AUTOGRAPH SCORING SYSTEM <<<
Thanks for visiting BravestarrCards.com: Card Collecting and TTM Autographs.