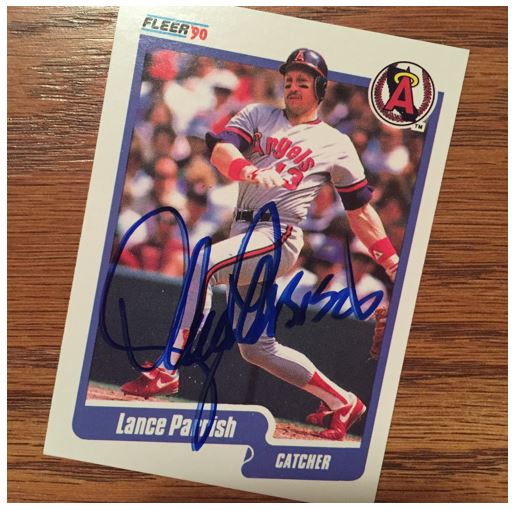 TTM Stats
Sent: 5/27/17 | Received: 8/9/17 | 72 Days
'83 Donruss, '87 Topps, '90 Fleer, '90 Topps, '91 Score
Address: Erie Seawolves
The Story of the Autograph
Lance Parrish was a catcher with several team, but most notably with the Detroit Tigers from 1977 to 1986. With the Tigers winning the championship in '84, that makes this another success from a World Series winner. Mr. Parrish is an eight-time All-Star, three-time Gold Glove winner and a six-time Silver Slugger winner. Parrish was big into lifting weights – and you could tell because the guy was a beast. When you think about it he's probably one of the guys who would inspire the players of today in that way. Sparky Anderson and he definitely disagreed over the weights. His best offensive season might have been '82 with a .284 average and 32 home runs. Definitely one of the better offensive catchers in the game, but could also get it done behind the plate.
The Score on Lance Parrish – 5.5


I really like the size of Lance's signature. And I like the amount of flourish it seems to have. I can't even guess how he makes that "L". But I think these cards don't really take an auto very well. The best one is the '90 Fleer. And I think the Sharpie he used is on the edge of running out. Definitely not the worst I've seen, but I have better examples in the pool from Lance. He is a really reliable signer thought – Thanks Mr. Parrish.
That darn pen makes it a 5.5.

>>> READ MORE ABOUT MY AUTOGRAPH SCORING SYSTEM <<<
Thanks for visiting BravestarrCards.com: Card Collecting and TTM Autographs.