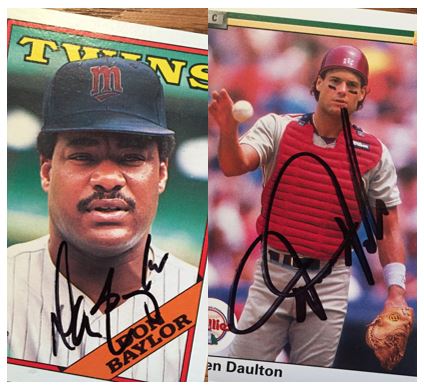 This week baseball lost Darren Daulton and Don Baylor, two players who had pretty different careers and lives, but who impacted the game in their own way. I've been lucky enough to have had TTM success with each of them over the years. Here's a look back at their careers and some images of my TTM autographs for them.
Darren Daulton: Jan. 3, 1962 – Aug. 6, 2017

Nicknamed "Dutch", Darren Daulton played for the Phillies and Marlins. All but one year was with the Phillies, but he won a championship with the Marlins in '97 after making it to the World Series with the Phillies earlier in the 90's and losing to the Toronto Blue Jays in dramatic fashion.
Darren took some time to get to the bigs after playing behind Ozzie Virgil and Lance Parrish for a few years. Once he got to the show he made an impact. He was an All-Star in '92, '93 and '95, winning the Silver Slugger as a catcher in '92 and leading the NL in RBIs that same year. In 1994 Mr. Daulton started experiencing the dreaded knee problems that all catchers worry about. His playing time was limited from there and he missed almost the entire '96 season because of it.
But in 1997 he was traded to the Marlins and played as a first baseman and pinch hitter. He helped the Marlins with the World Series against the Cleveland Indians and went 7-for-18 in the series.
In 2013 Daulton underwent surgery for brain tumors. He announced being cancer free in 2015 but ultimately died from brain cancer on August 6th, 2017 at the age of 55.
Don Baylor: June 28, 1949 – August 7, 2017

Don Baylor played for several teams in his long career (19years) and he was also a manager. In fact, he was the first manager of the Colorado Rockies.
During his playing career Don was a power hitter and was known for crowding the plate. His best year playing from a statistical standpoint was 1979. In that year Mr. Baylor was an All-Star (his one and only appearance), led the AL in RBI, and was named the AL MVP while with the Angels posting 139 RBI and scoring 120 runs that year. His greatest accomplishment in baseball was winning the World Series in 1987 with the Minnesota Twins. But possibly the best accomplishment might be winning the Roberto Clemente Award for community contributions in 1985.
As a manager Baylor won the Manager of the Year award in 1995. That year the team had their first winning record and made the postseason as a Wild Card. By 1997 the Rockies had the best 5-year record of any expansion team. He later managed the Cubs from 2000 to 2002.
On August 7, 2017, Mr. Baylor died after a battle with multiple myeloma. He was 68.
Thank you for your contributions to baseball Mr. Daulton and Mr. Baylor.