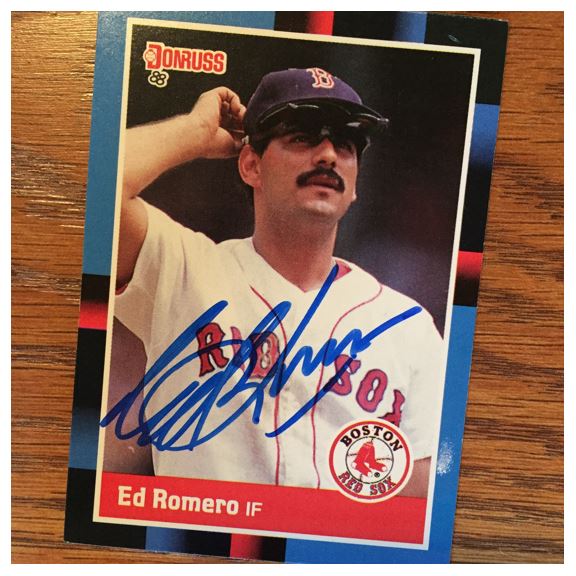 TTM Stats
Sent: 9/23/17 | Received: 10/2/17 | 9 Days
'83 Fleer, '88 Donruss, '88 Fleer, '88 Topps
Address: Home
The Story of the Autograph
Ed Romero played from 1977 through 1990 for the Brewers (2x), Red Sox, Braves, and Tigers. He was an infielder from Puerto Rico.
Ed was part of the Brewers 1981 AL Easter Division champs and the 1982 AL Pennant. He was also part of the Red Sox 1986 AL Pennant and 1988 Eastern Division champs. He doesn't have breathtaking numbers but was definitely a solid infielder and player off the bench for a long time.
After his playing days were over he coached for the Florida Marlins and Houston Astros. He also managed a minor league team.
If you aren't aware of the Wax Ecstatic podcast already, you should check out the profile Matt Sammon did about Ed on the episode about the 1984 Fleer set.
The Score on Ed Romero – 4.5


I feel like there are parts of Ed's signature that are really great. That "R" is promising with the loopiness and everything. But it seems like things are just bunched up a little bit. I can kind of make out his first name, but the bunching kind of gets in the way. That said, its pretty clean other than some inconsistencies at the end of his autograph between the cards. I'd say in the end these are OK, but hard to push up to a 5. Thanks Mr. Romero!
I'm giving these a 4.5.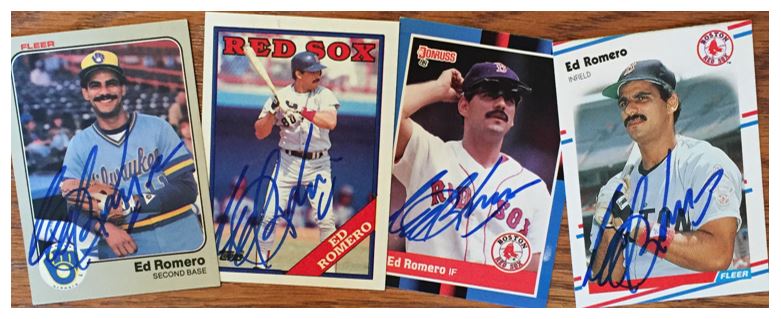 >>> READ MORE ABOUT MY AUTOGRAPH SCORING SYSTEM <<<
Thanks for visiting BravestarrCards.com: Card Collecting and TTM Autographs.