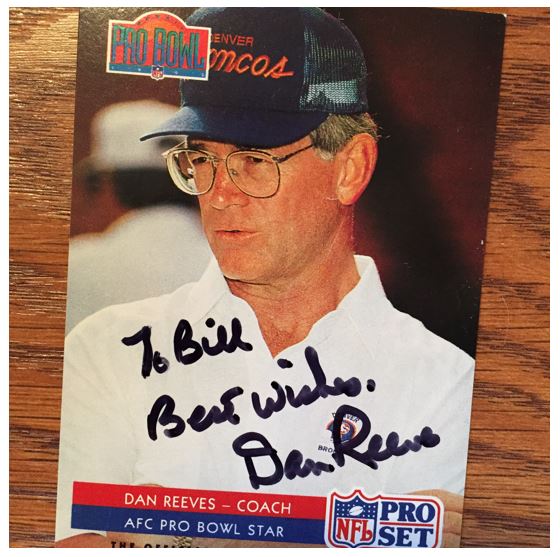 TTM Stats
Sent: 10/13/17 | Received: 10/20/17 | 7 Days
'88 Topps, '92 Pro Set, '92 Pro Set
Address: Home
The Story of the Autograph
Dan Reeves is a former running back and coach in the National Football League. Given that I grew up in the 80's and early 90's, I remember him best as the head coach of the Broncos and the Giants, but he also coached the Falcons in his last job and was an assistant coach in the 70's for the Cowboys (the team he played for during his career).
With the Broncos through the 80's, Reeves' teams were very successful. In 1981 he was the youngest head coach in the NFL. He acquired John Elway in a trade which helped the Broncos to six postseason appearances, five division titles and three AFC Championships. He was the only coach in the 80's to lead his team to the Super Bowl in consecutive seasons.
No matter how much success he had with the Broncos, Reeves and his teams will pretty much be known for not getting it done in the big game. The Broncos of the mid-to-late 80's were similar to the Bills of the early-to-mid 90's. I know that winning Super Bowls is an important point, but I think all of the unsuccessful teams and coaches out there would love to have his record and what his teams accomplished.
Reeves moved on to the Giants and while successful in his first year, the follow-up years were not great and he was fired. In the late 90's he coached the Falcons and helped them to a 14-2 record in 1998 after some poor years. They made it to the Super Bowl and had to play the Broncos. They lost 34-19.
Since then Reeves has tried to get back into coaching, but thus far hasn't gotten a job in the NFL. He has been working with Georgia State's football program though at the college level.
The Score on Dan Reeves – 5.5


At first I was a little worried about this one. He signed what looks like "Dan Reeve". But it looks like after a little research, this is pretty much how he signs everything. The Pro Bowl card is perfect for a signature and he had plenty of room to personalize it. The other two however have too much action and detail and it really hides the signature. The cards and the subject matter definitely impact the strength of the signature.
Overall Dan doesn't really have a crazy signature. It's pretty standard, but he it's a strong marker and an overall solid autograph. Thanks Mr. Reeves, I'm giving these a 5.5 and I'll get you some better cards if I send again in the future.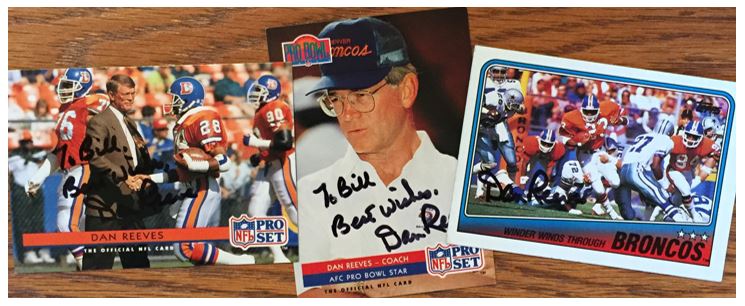 >>> READ MORE ABOUT MY AUTOGRAPH SCORING SYSTEM <<<
Thanks for visiting BravestarrCards.com: Card Collecting and TTM Autographs.