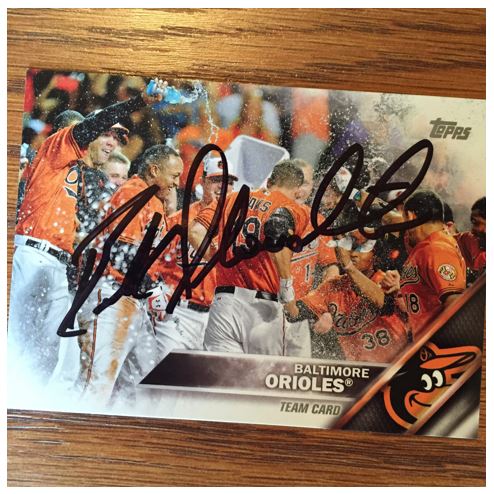 TTM Stats
Sent: 8/12/17 | Received: 8/25/17 | 13 Days
'16 Topps, '17 Topps
Address: Baltimore Orioles
The Story of the Autograph
I think Buck was born to be a manager. He was manager of the year for three different teams (Yankees, Rangers and Orioles), and on top of that he took on the Arizona Diamondbacks as their first manager and took them to the playoffs within a couple years. However, I think the hard part of the story with Mr. Showalter is that in both New York and Arizona those teams won the World Series the next year. And he hasn't ever gotten it done in Texas or Baltimore. So he's getting something right, but is he always destined to fall a little short?
If it's one thing I love it's a nickname origin story. Buck's real name is William Nathaniel Showalter III. He was originally known as Nat and didn't pick up the Buck moniker until the minor leagues. While with the Fort Lauderdale Yankees in his first minor league season, Showalter had a tendency to sit around the clubhouse "buck naked." From there his manager, Ed Napoleon, dubbed him Buck.
The Score on Buck Showalter – 5.5


I'm giving buck a 5.5. From a signature standpoint he is pretty right down the middle. The best part about bucks signature is that it's always a good size, he always uses a good pen, and he always signs fast. As they would say in the game, Buck's got the "fundies" covered. I like both of these cards, but the 2016 card might be the perfect team card. Any team celebration would be perfect there, and to have the manager sign it I think ices the cake.

>>> READ MORE ABOUT MY AUTOGRAPH SCORING SYSTEM <<<
Thanks for visiting BravestarrCards.com: Card Collecting and TTM Autographs.