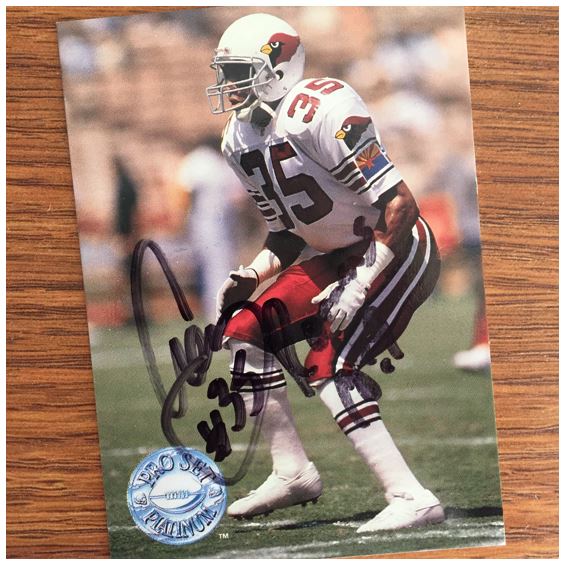 TTM Stats
Sent: 12/14/2017 | Received: 1/2/18 | 18 Days
'91 Pro Set Platinum, '93 Score
Address: PO Box
The Story of the Autograph
Aeneas Williams played in the NFL as a cornerback and safety for 14 years as a member of the Phoenix/Arizona Cardinals and the St. Louis Rams. He was drafted by the Cardinals in the 3rd round of the 1991 NFL Draft with the 59th overall pick. He went on to become an eight-time Pro Bowler and a four-time First-team All-Pro. He made the NFLs 1990's All-Decade team and is in the Arizona Cardinals Ring of Honor. In 2014 he was inducted into the Pro Football Hall of Fame.
Aeneas is was born in New Orleans, LA and attended high school there. He attended Southern University but was a student only and didn't play football until his junior year. That year he tied the NCAA D1-AA record for most interceptions. After just two years of playing in college his statistics impressed the NFL enough for him to be drafted.
In his rookie year with the Phoenix Cardinals (as they were known before changing their name to the Arizona Cardinals), Aeneas had a great rookie season. He tied the NFC lead for interceptions. He would be the number one corner in Phoenix quickly and led the NFL with 9 interceptions in 1994. He was instrumental in helping the Cardinals to their first playoff with since 1947 when he intercepted Troy Aikman twice in a playoff game against he Cowboys in 1998. But during his time in Arizona, that would be the only winning team he played for. The Cardinals were usually bad in the 90's.
In 2001 he was traded to the St. Louis Rams. He switched to free safety while with the Rams. The Rams were a great team in the early 2000's and had already won a Super Bowl against the Titans. But Aeneas would get back to the playoffs again. This time he would get to the Super Bowl, but lose to the Patriots.
Aeneas is currently a pastor in a church he founded in St. Louis.
The Score on Aeneas Williams – 4.0


This score is all about the pen. Both of these two signatures are pretty faded. I seen much better versions of Aeneas signature out there and I'll probably just have to catch him at a better time. These cards are pretty busy and they could have really used a strong marker. I like the way he pretty much signs his first name and then his includes his number in the loop. This would be a much higher score with a better pen.
Thanks, Mr. Williams. I'm giving these cards a 4.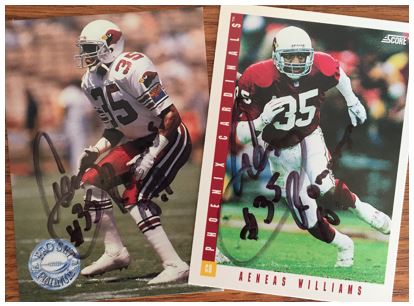 >>> READ MORE ABOUT MY AUTOGRAPH SCORING SYSTEM <<<
Thanks for visiting BravestarrCards.com: Card Collecting and TTM Autographs.