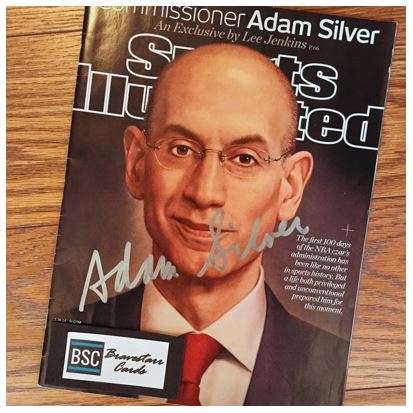 TTM Stats
Sent: 6/16/17 | Received: 6/27/17 | 11 Days
Sports Illustrated 5/26/14
Address: NBA Offices
The Story of the Autograph
Adam Silver is the current commissioner of the NBA (replacing Daniel Stern). He did his undergrad at Duke. I see on his wiki that he was a Knicks fan while growing up in New York, but who wants to be a Knicks fan now (I mean, I do, but it hurts so much). I personally like where he is taking the league and while I don't watch a lot of NBA it feels way more exciting than it used to. Hey, he's for legalized and regulated sports betting – I'm in.
The Score on Adam Silver – 9


I mean if your last name is Silver, can you sign in anything else? This is a great signature, with great size and an awesome choice with the silver marker. This has to be one of the best in my collection from a quality and score standpoint.
This is a 9 – hands down.
>>> READ MORE ABOUT MY AUTOGRAPH SCORING SYSTEM <<<
Thanks for visiting BravestarrCards.com: Card Collecting and TTM Autographs.