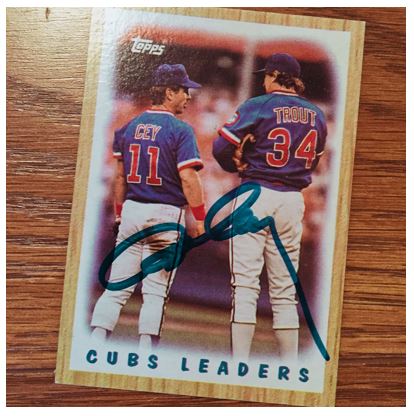 TTM Stats
Sent: 6/22/17 | Received: 6/30/17 | 8 Days
'87 Topps
Address: Home
The Story of the Autograph
Does Ron Cey have the best nickname in baseball ever? How can you go wrong with "The Penguin." He was nicknamed that in college for his slow waddling running gait. I mostly remember him playing in an awesome infield (with Steve Garvey, Davey Lopes, and Bill Russell) in Los Angeles in the 70's and early 80's. He won the World Series in 1981 and was the MVP of the series. Ron also played in six straight All-Star games. He was a great Third Baseman but was overshadowed by guys like Pete Rose and of course Mike Schmidt.
The Score on Ron Cey – 7


I love Ron's signature. The blue is a great choice too with this card. He always has a solid autograph. I'm going to have to debate trying to send this to Steve Trout to double up on the card. Hmmm…
A 7 for Mr. Cey.
>>> READ MORE ABOUT MY AUTOGRAPH SCORING SYSTEM <<<
Thanks for visiting BravestarrCards.com: Card Collecting and TTM Autographs.