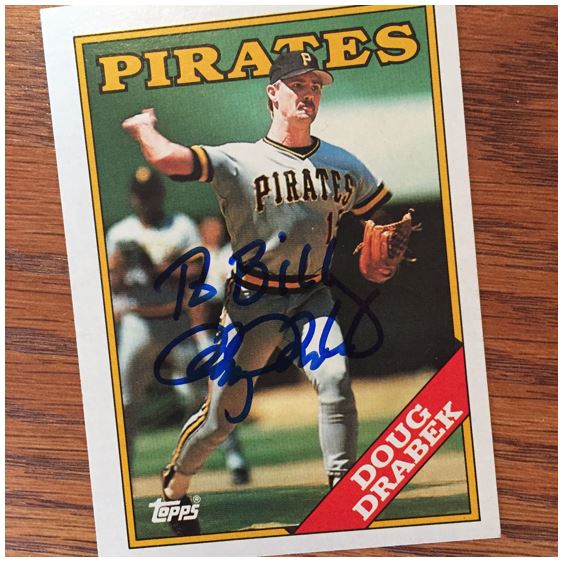 TTM Stats
Sent: 7/7/2017 | Received: 1/12/18 | 185 Days
'88 Topps, '90 Donruss, '91 Donruss, '91 Topps, '92 Topps
Address: Home
The Story of the Autograph
Doug Drabek is a former pitcher for the Yankees, Pirates, Astros, White Sox, and Orioles. He pitched from 1986 to 1998 and is probably remembered best as a Pirate because that's where he found the most success both individual and with the team.
Doug was originally drafted by the Indians in 1980 out of high school but didn't sign. He went to the University of Houston and then was again drafted after his junior year by the White Sox in 1983. This time he signed and entered the minor leagues. But he didn't stay long with the White Sox as he was traded to the Yankees during his time in the minors and eventually made his major league debut with the Yankees in 1986. But the following season he was traded to the Pirates.
From 1987 to 1992 Doug was an innings eater who would have a great ERA. His best year was 1990 when he went 22-6 with a 2.76 ERA and lead the Pirates to the postseason. His 22 wins led the league and he was rewarded with the Cy Young award. He was a major piece of the Pittsburgh rotation in their most successful years in the early 90's. In 1993 he went to Houston as a free agent. During the 1994 strike-shortened season he went 12-66 with a 2.84 ERA and was named to the All-Star team for the first and only time in his career. His next seasons after the strike weren't the same and he retired after the 1998 season.
After retiring Doug went into coaching. First he would coach his son's little league teams. He would later move into coaching in the minors. His son Kyle has pitched in the majors and I think is currently still with a team trying to make the big club.
The Score on Doug Drabek – 5.5


In my past experience in sending to Doug, he usually only signs three of the cards. Since he usually sends everything back I don't mind sending more in case he'll sign them all and in this case he did. Doug always has a consistent signature and he always uses a good marker, but it is usually a thinner marker and he always personalizes the cards. I think on these cards the '91 Topps and the '88 Topps came out far and away the best. The others are just too busy or black to really see what's going on. So on an individual card level I rated those two higher.
Thanks Mr. Drabek! This return gets a 5.5.
>>> READ MORE ABOUT MY AUTOGRAPH SCORING SYSTEM <<<
Thanks for visiting BravestarrCards.com: Card Collecting and TTM Autographs.
Information gathered from Wikipedia and Baseball Reference.