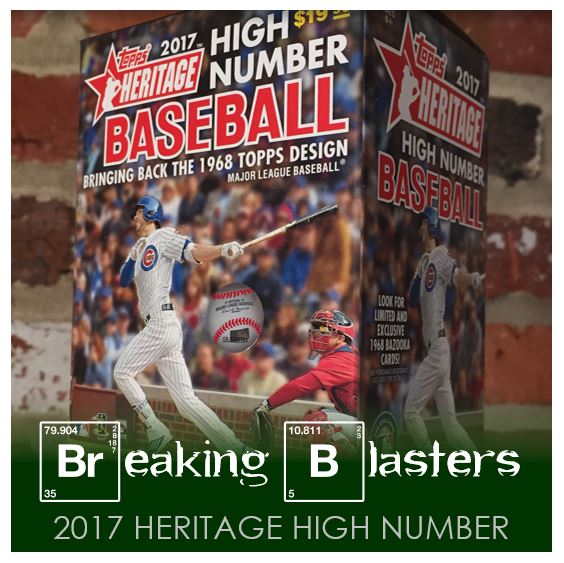 One of the things I like to do each year is save some blasters or packs and get ready for Spring Training TTM time. Since Heritage is one of my favorites for TTMs I hid these pretty good and tried to forget about them for a little while. If I can hold off on opening them it provides something cool to do as the season approaches and I don't have as many consistent things pulling at me during the late hours of the night when I'm the only one stirring in the house.
Somehow I managed to save A LOAD of blasters and hanger packs this time. I honestly don't know how I held myself off.
The Sorting Hat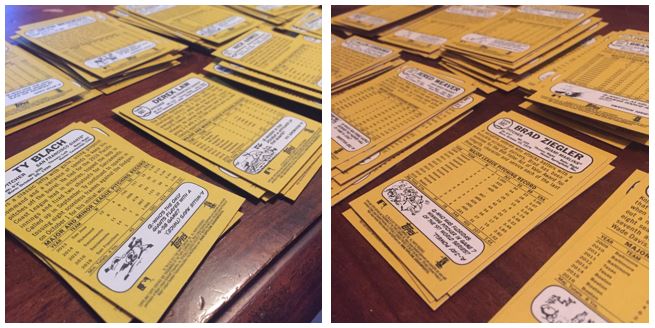 Notice anything about the piles in the picture? Well you would think that they be a little more even maybe (hopefully). The "580s" were quite a bit short as compared to the "520s" at the top of the picture on the right. And the "650s" seem a little shorter than a lot of those other piles. I really don't get collation. But I would think all this is done by machine right? How hard is it for the machines? I guess this is just one of the mysteries of the hobby these days.
No Goggles?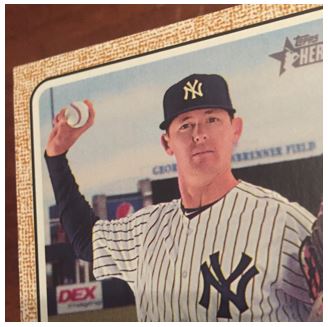 When did Tyler not need his goggles anymore? This isn't like a Ricky Vaughn thing is it?
That's How I Found Them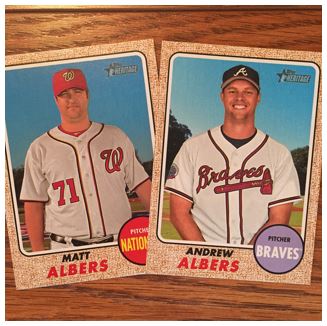 I'm not joking, this is the way they came out of two packs. I tried to do a little searching to see if they are bothers and I don't know that they are. Admittedly, I didn't do that much work though.
Have I told you Matt Albers nickname… Fat Albers. When he comes out of the bullpen you can hear "hey, hey, hey…." Well, actually that's just my brother and I saying it.
My Favorite Insert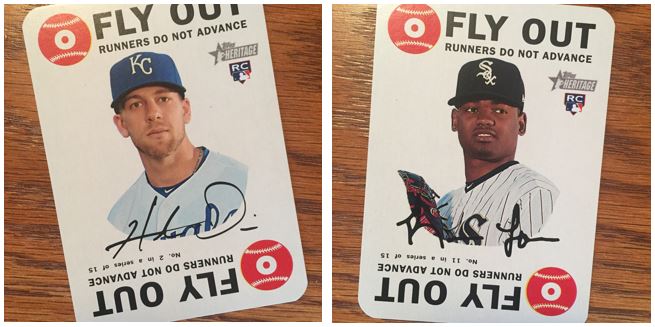 This might be my favorite insert of the year. My Aunt had once told me about this game and we tried to make one up once. I don't remember if we got very far but it sounded like I would have loved it back in the day.
The Hits Just Keep On Comin'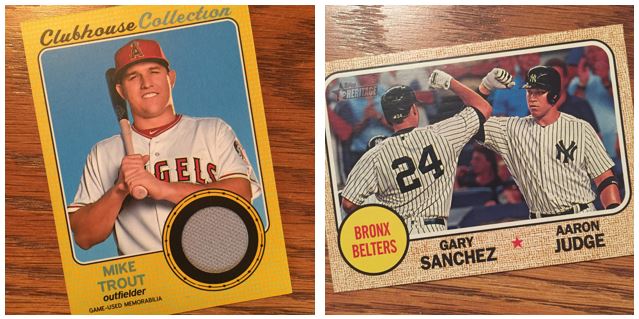 The Clubhouse Collection stuff is generally not exciting. The only thing that makes this one exciting is who is on the card. I've never pulled anything as good as a Mike Trout relic. That's not to say I don't have anything like that in my collection, I'm just never that lucky.
As for the Judge, aren't we currently obligated to report any card on which Aaron Judge appears these days?
What's What?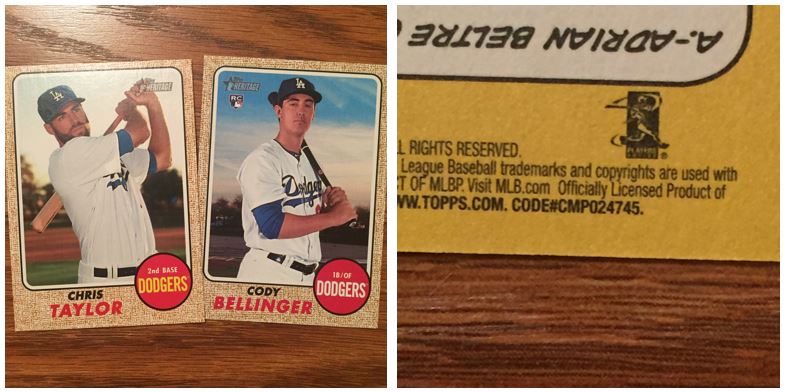 It's fitting that I found this Bellinger card because it reminded me of a recent post from Night Owl. I really don't like having to examine my cards that closely to figure out what I have. I like to be hit over the head with it. In this case what you are looking as is a Cody Bellinger Team Color Swap Variation card. I didn't have a base card so I found the Chris Taylor to compare the fronts. On the back you can check the code though and if it ends in "45" it's officially one of those cards. You can find out more about the different gimmicks on the Beckett site and on BaseballCardPedia.
Greyback?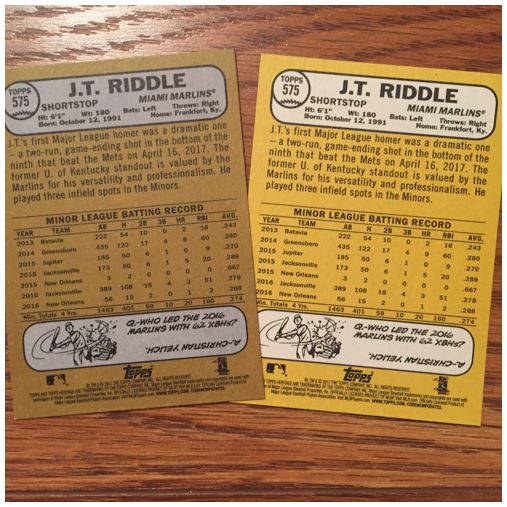 And here's a great example of not understanding what is a variation or gimmick. There's supposed to be a gray back to some cards, but is this the gray back? It sure looks like it. But from what I can find these are numbered and there isn't a number on these. It was the only card of all that I opened that had a back like this.
Anyone catch the "Greyback" reference and the Riddle card? Know where it's from?
Something for the TTM Pile

And in the end this is what I like to get out of it. These will be three great cards for TTMs (there were plenty more I'm just not showing them all). They are nice and bright and will show off a good signature. I'm pretty sure all these guys sign during Spring Training so it's worth a shot.