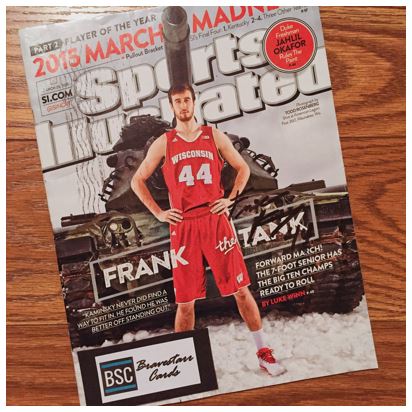 TTM Stats
Sent:  4/8/17     |     Received:     6/5/17     |     57 Days
Sports Illustrated 3/23/15
Address:  Charlotte Bobcats
The Story of the Autograph
I like Frank Kaminsky a lot. He seems kind of goofy and fun-loving. Not that I go out of my way to root for him, but I'd like him to be successful. He was pretty good in the NBA Futures Game this year at the All-Star break. Frank was draining threes left and right. He had a great career as a Wisconsin Badger and they made an awesome run in his last year. I usually root for Wisconsin in general because they are good, but still usually an underdog and I am a sucker for an underdog.
The Score on Frank Kaminsky – 3.5


This one could have been placed a bit better with some white space above where he signed. The dark tank in the background doesn't help with the black Sharpie. He's got a bit of a hurky-jerky signature and that makes sense given the letters in his name – very angular. I like that he used his number in the signature as well.
I'll give this one a 3.5 and that's mostly impacted by the readability of where he put the autograph.
>>> READ MORE ABOUT MY AUTOGRAPH SCORING SYSTEM <<<
Thanks for visiting BravestarrCards.com: Card Collecting and TTM Autographs.