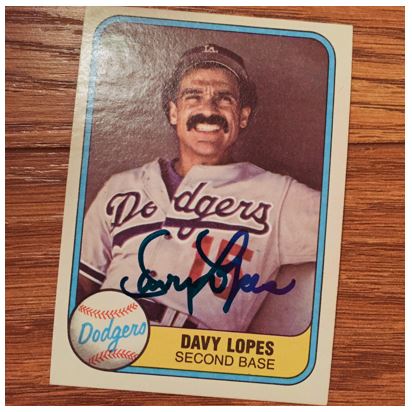 TTM Stats
Sent:  4/22/17     |     Received:  5/4/2017     |     12 Days
1981 Fleer (Returned 2 other cards unsigned)
Address:  Washington Nationals
The Story of the Autograph
I've sent to Davy a couple times and he is definitely a guy who only signs one card. Good to know going in but I hadn't sent in a while so it was worth a try. The good thing is he sends the unsigned cards back. Although it always seems that when a guys signs just one or a couple cards he always seems to leave out the one you'd rather have signed. Something of note is that the Nationals site and Wikipedia have him listed as "Davey," while this specific '81 Fleer cards spells it "Davy." It appears that he signed it as "Davy."  It's a baseball mystery.
The Score of Davey Lopes – 5


I think this one is a fine signature. Nothing special. Davey has an interesting "D" though. It almost appears as if its an "S." But it's a solid signature. I think it's in a great place on this card and is a pretty good size. It's really too bad it's an '81 Fleer though. That is a terrible card with terrible photography and unimaginative design.  Davey makes it a bit stronger but….
It's a bit middle of the road for me in the end… 5.
>>> READ MORE ABOUT MY AUTOGRAPH SCORING SYSTEM <<<
Thanks for visiting BravestarrCards.com: Card Collecting and TTM Autographs.