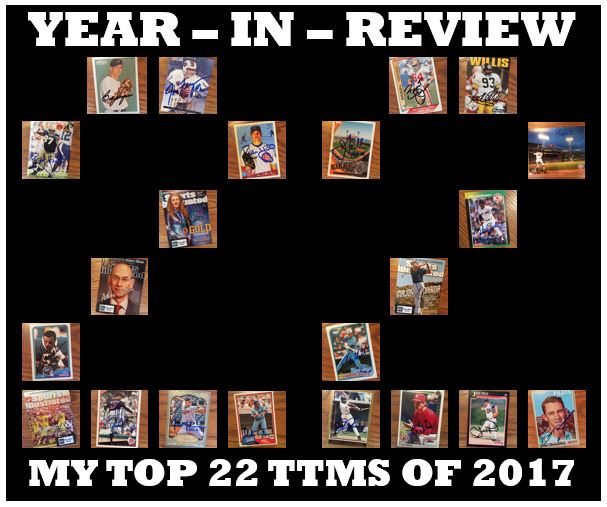 Wow, how's that for an alliterative title!
What you'll find in the list below are the TTM autographs that I received this year that I rated the highest. Each of these received a BraveSTARR score of 8 or above. Now just because they did, doesn't mean they fall into my personal favorites of the year. That's another list entirely.
If you check out the posts for the cards there may be some slight difference in the scores. In a post I score all of the cards I get with one score, but then I look at each card individually as well. If you want more information about what I think about when I score them (it's so objective and scientific – *sarcasm*) check out how I do it here.
Let's Power Rank some TTMs…
#1 – Bryant Young – 9.5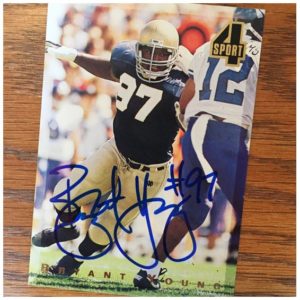 It surprises me a little bit that this stay at the top of my list as the lone 9.5. I think that's probably because I didn't expect to get what I got and it made it so much better when I first opened it up. It just seems like this one has everything and ticks all the boxes for me.
#2 – Billy Wagner – 9.0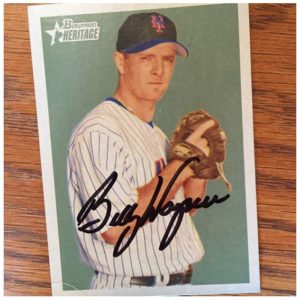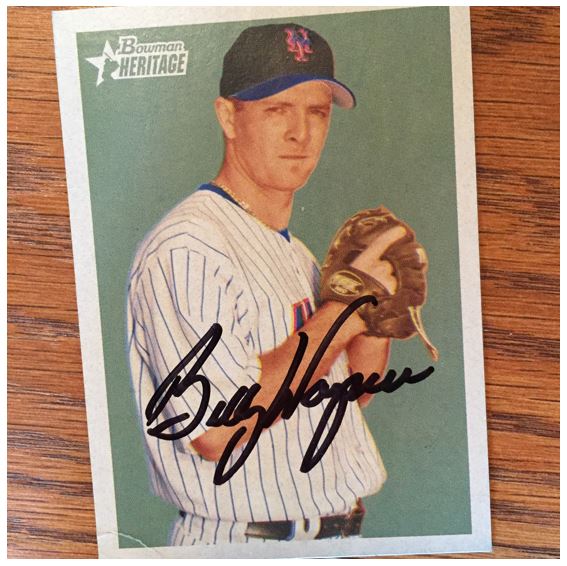 Yes, it helps that this is an auto from someone pictured on my favorite team, but I don't think you can find a Billy Wagner TTM that I don't like. They always come out great and from what I've seen he alternates blue and black and always picks the best color. These Heritage/matte-style cards always help to make a great autograph too.
#3 – Rich Hill – 9.0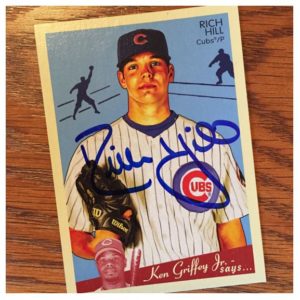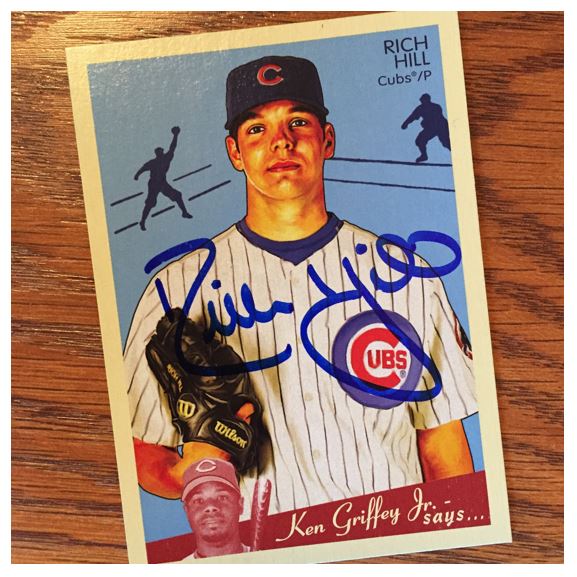 Is there an auto that fits a guy's pitch better? Probably not. What's funny is that I don't imagine Rich to be a guy with a personality that fits his signature. I know he can be a fiery guy on the mound, but he just kind of looks plain. His signature is far from that.
#4 – Mikaela Shiffrin – 9.0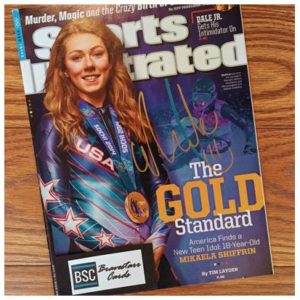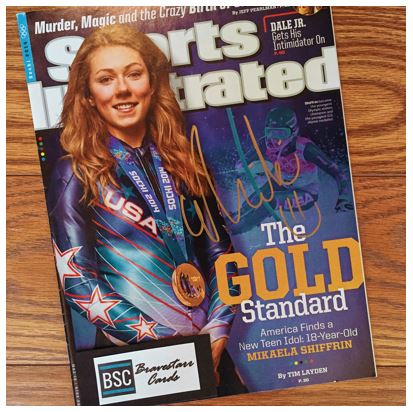 This might be the second best example of the color working with the person the best (wait until the next one). I'm still excited about this with the winter Olympics coming, but using gold for a gold medal winner – that's perfect! I mean it fits with the item too.
#5 – Adam Silver – 9.0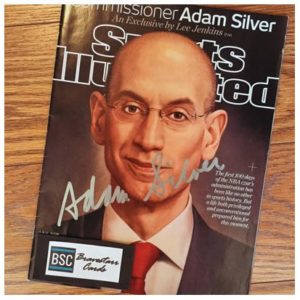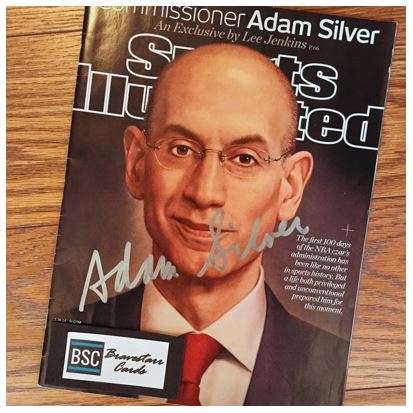 This is the best example of the color working for the person. When you last name is Silver you should only own silver pens and sign with those. It also helps when you have a great autograph like Adam does.
#6 – Harry Carson – 8.5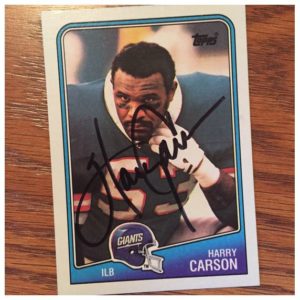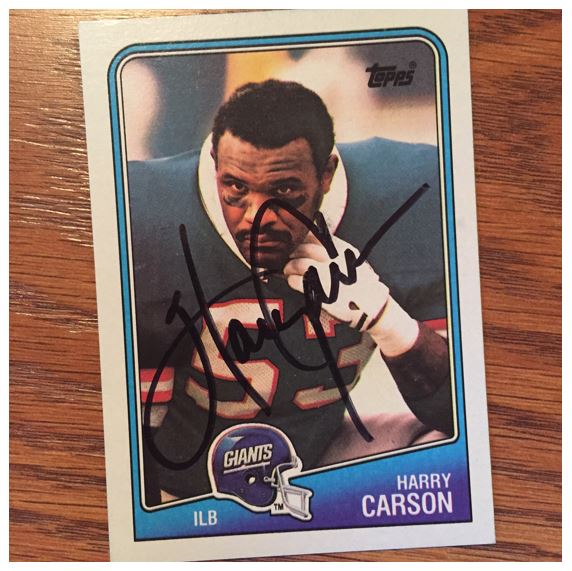 Harry has a great signature, but he's also a career Giant and I couldn't not show love to my boys. I'm glad this ended up as one of my top football signatures because it definitely deserves to be there. He has a beautiful autograph.
#7 – Marcus Mariota – 8.5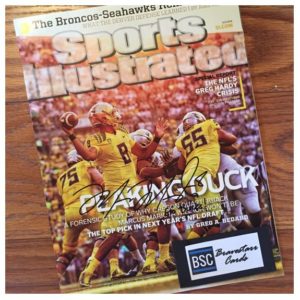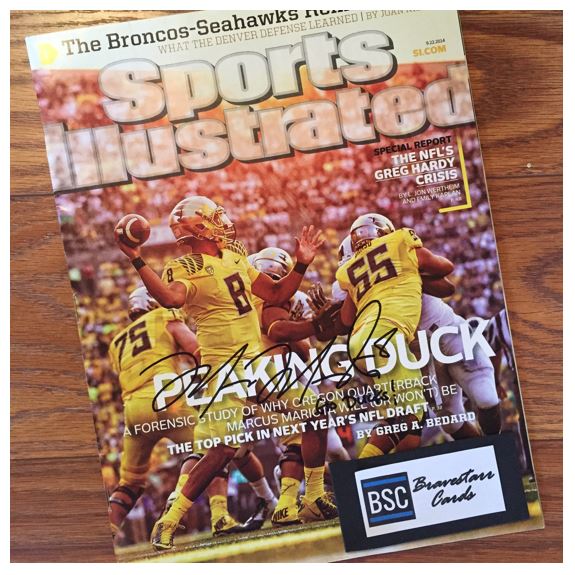 Marcus has a nice signature, but I think what made this one was the inscription. This is just an amazing picture for a magazine cover. Adding a number and "Go Ducks" just adds to it. I've got one more out to Marcus that I'm hoping to get.
#8 – Pat Neshek – 8.5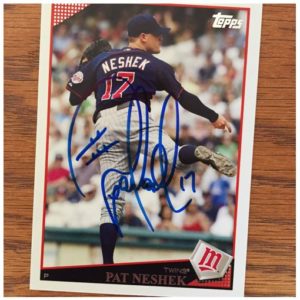 Pat is a great signer and he has a great autograph. The next time I send to him I need to remember to ask him what he puts inside the "P" of his name. There's a little mystery there that I'd like an answer too.
#9 – Justin Masterson – 8.5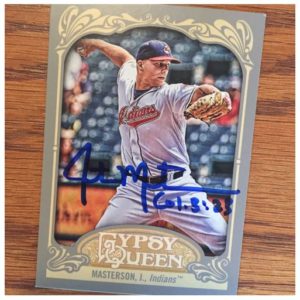 I love how autographs come out on Gypsy Queen cards. Just like Heritage, when a card is matte it really takes the autograph well. This year I feel like there was a bit of a shortage on them in the big retail stores. Luckily this came from a set from a few years ago so I had a stash.
#10 – Mike Tyson – 8.5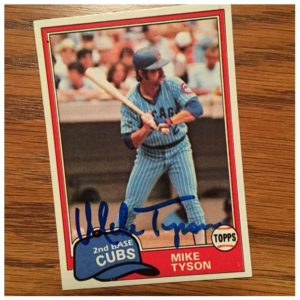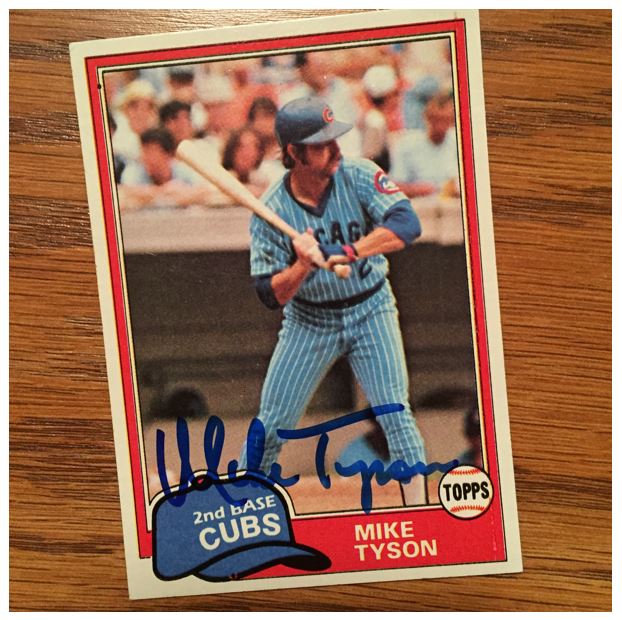 I got this one long enough ago that I almost forgot about it. I surprised when I saw it among the highest scores. But as I look back at it it definitely deserves it. Mike has a strong signature and he uses a great marker for it. That "M" might be one of my favorites of the year.
#11 – Joe Ferguson – 8.0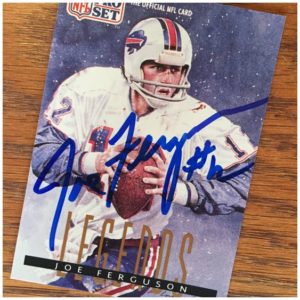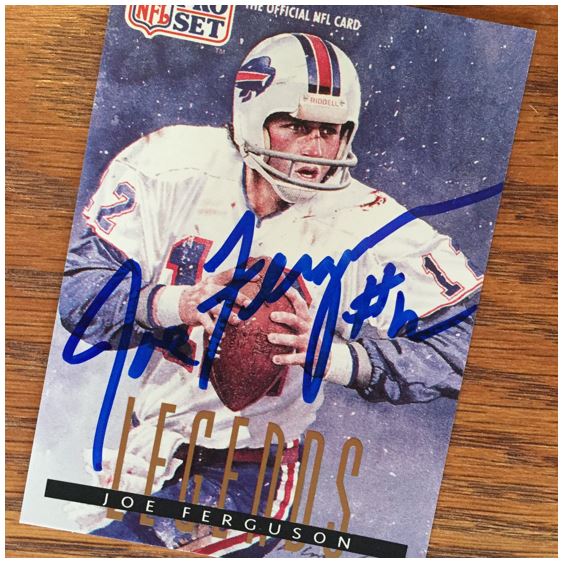 This list is just full of surprises for me. Joe definitely belongs among the top for the year, but I just hadn't seen his autograph before so it surprised me to see what I got. Joe signs nice and big on the cards and he uses a great marker for it.
#12 – Jon Miller – 8.0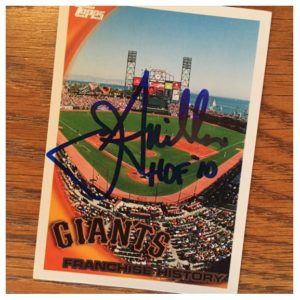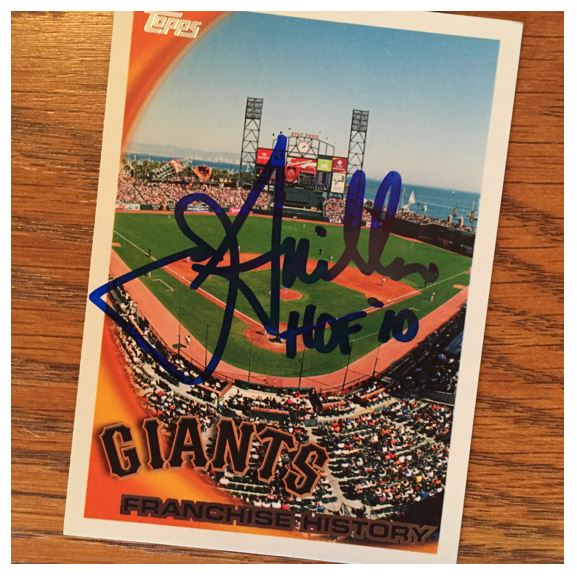 I love getting some cards signed by non-players. I have a couple of GMs and stuff, but this might be my first for a broadcaster (not a former player turned broadcaster). And how can you go wrong with a Frick award winner. I think this is a great card for a signature too as composition of the picture really asks for a signature.
#13 – Brent Jones – 8.0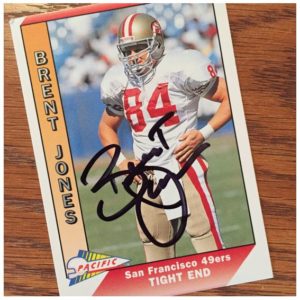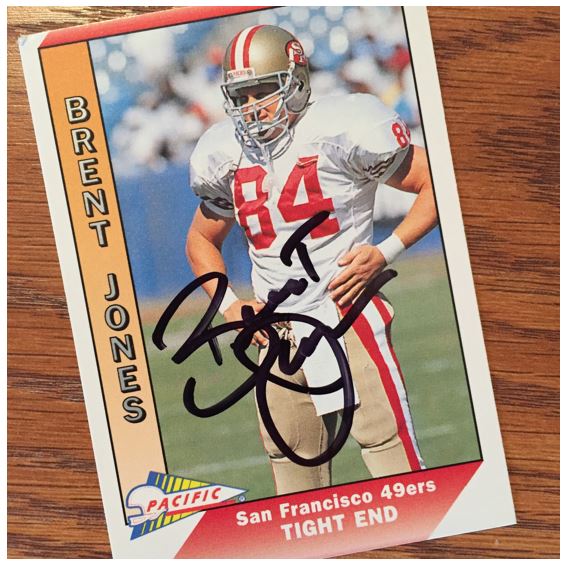 I actually didn't think I would get this back. Sometime even when you see other successes out there you don't really trust them. This was that way for me. The signature came out really well.
#14 – Keith Willis – 8.0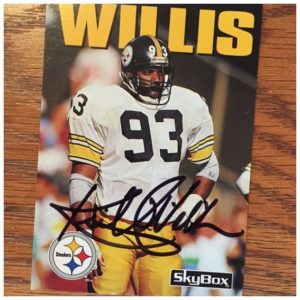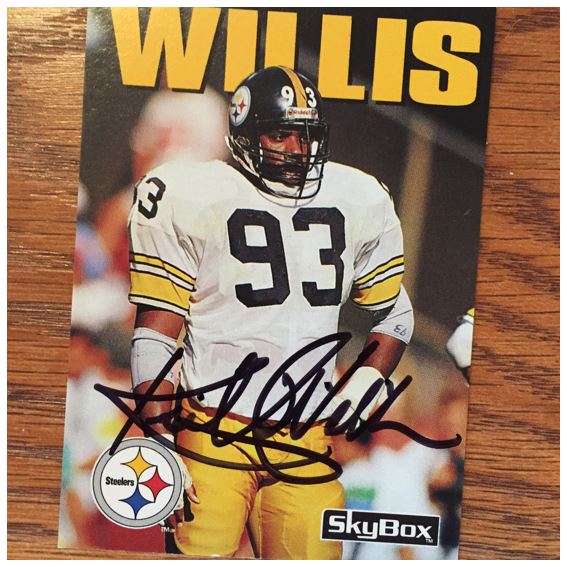 I feel like I got a bunch of Steelers in my collection now. I know that Keith might not be the best of them playing-wise, but he could be autograph wise.
#15 – Andrew Benintendi – 8.0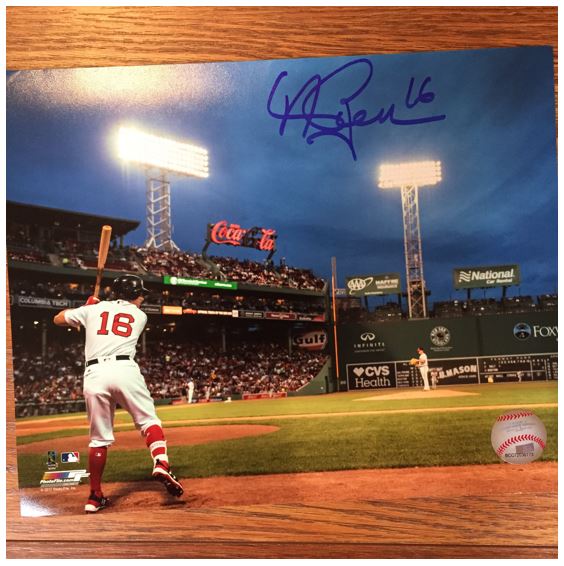 I saw Hamilton this summer, so this coming in a "A. Ben" probably won me over just for that. This is another that gets me thinking – do I like getting back the great 8×10, or would I rather have the Sport Illustrated I sent? I think the quality of this one makes me forget that I even ask that question.
#16 – Mike Smithson – 8.0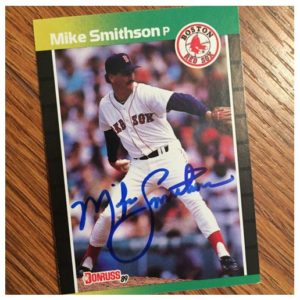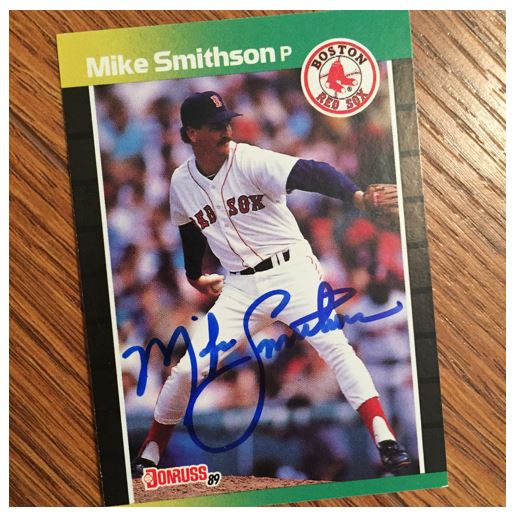 Best "S" in the game. He has a really consistent and strong signature. I'm hoping I find some more cards of his that I can send out.
#17 – Jordan Speith – 8.0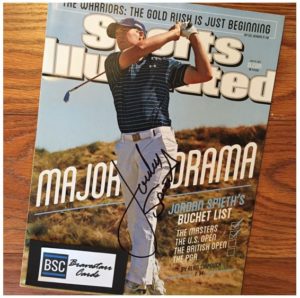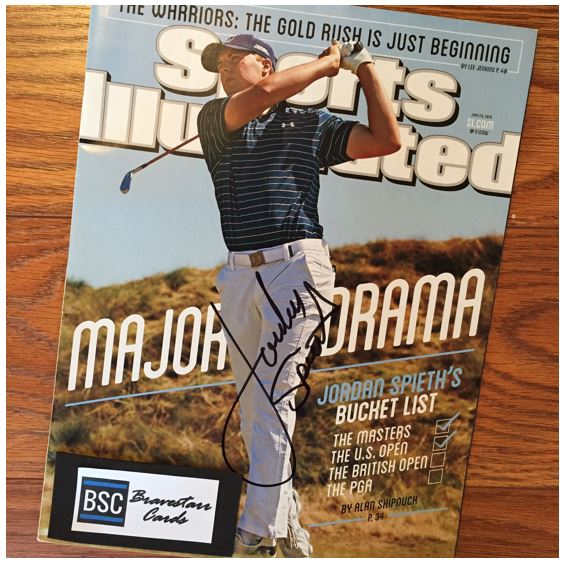 My first golf success is great. The challenge I think for most of the golf stuff I've tried is where to send. In this case I found a good address, but for most guys I've only seen a generic PGA address. I have another I might send to Jordan next year and I hope that one comes out just as good.
#18 – Ernie Whitt – 8.0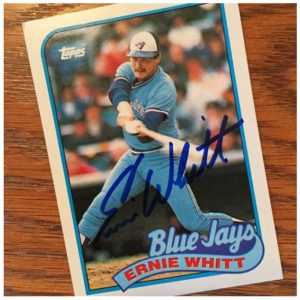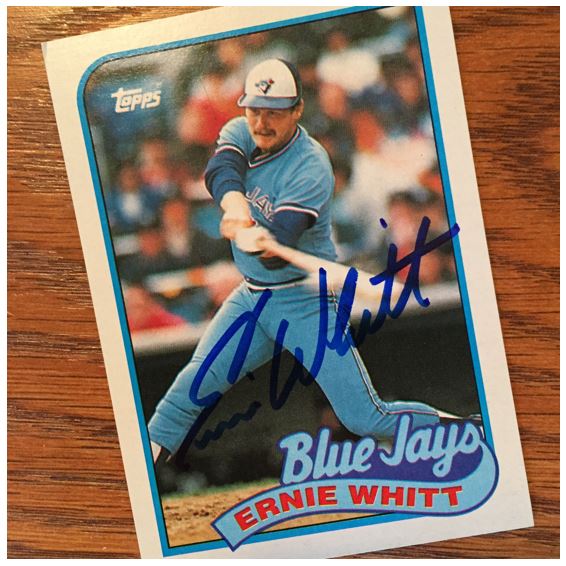 Maybe the most consistent autograph in the game. It always good quality and it's almost even the same angle every time. Add that to a quick return and you can't go wrong with sending to Ernie.
#19 – Mike Cameron – 8.0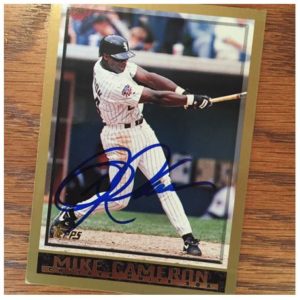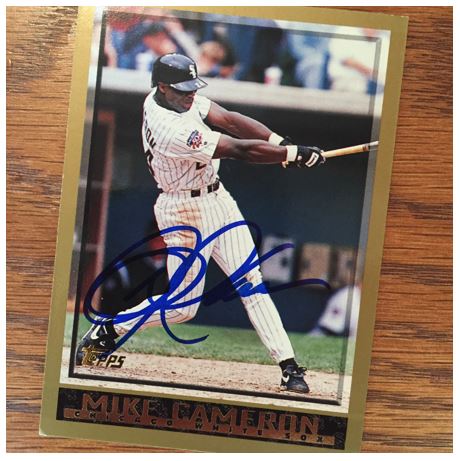 Mike just has a ton of flair in his signature. This might sound odd, but I like even the way all of the lines end. I feel like it really shows how he flows through his signature.
#20 – Frank DiPino – 8.0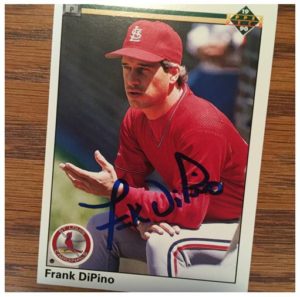 I think I just gave this score because it looks like he uses "F__k" as his first name.
#21 – Jeff Pico – 8.0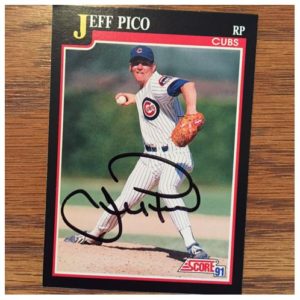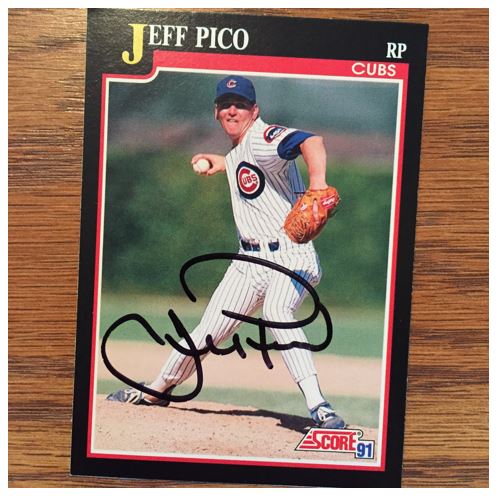 Jeff has a great loopy signature. What I think makes this one specifically though is the black Sharpie with the black border on the card.
#22 – John Donaldson – 8.0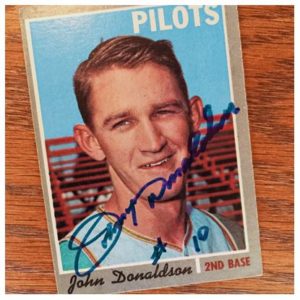 This is the oldest card in this list. I loved the "Johnny" as part of the signature but I also love a signature on a card for a team that doesn't exist anymore. I'm glad an old card got some love on the list.
Not a Bad Year
2017 was a good effort for getting back into the TTM game. Hope you found some things you like in the list and some folks to go after in 2018 (if you haven't already).