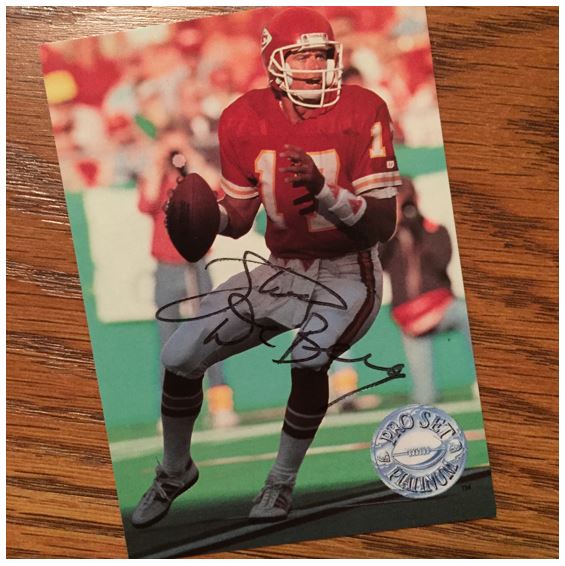 TTM Stats
Sent: 10/14/2017 | Received: 12/9/17 | 55 Days
'91 Pro Set Platinum, '91 Score
Address: Home
The Story of the Autograph
Steve DeBerg was a quarterback in the NFL for a LONG time. He started out in 1977 on the Cowboys practice squad. Then he started a run of 17 years with five different teams. He would play for the 49ers, Broncos, Buccaneers (twice), Chiefs and Dolphins. Then five years after he finished with the Dolphins he played for the Falcons, in 1998.
DeBerg was a starter and then a backup at points in his career, which explains some of why he was around for so long. He was the first quarterback to lead Bill Walsh's "West Coast Offense in 1979 (prior to Montana). DeBerg would be supplanted by Montana midway through the 1980 season. But during his only full season as a starter he would lead the league in completions, attempts and rank fifth in the league in yards with 3,652. He would have a turnover problem though which would be his bug-a-boo in his early career. He would move on to the Broncos and Buccaneers and after losing his job to Montana, he was with those teams as they had Elway, Young and Testaverde.
He had some really great seasons in Kansas City. 1990 was an amazing year as he would pass for 3,400+ yards and have a 96.3 passer rating. Turnovers were not a problem this year and he would go a team record 223 passes without an interception and throw for 23 touchdowns. Toward the end of the season DeBerg injured his had and it required a pin to be inserted into his broken finger to keep it straight. He still played over the final two games and the Chiefs went 100% shotgun so that DeBerg wouldn't injure his had with a direct snap. The Chiefs would go on to the AFC Wild Card game, but lose to Miami.
The Score on Steve DeBerg – 5.0


Steve has a nice signature but in this case there are few things I'm looking at. First, he signed with a ball point pen. That's fine on a ball but it's not what you want on a card. It really digs into the card. I think this might be only the second or third card I have with a ball point signature this year. The second thing is that the signature is small. That's find on the Score card because he signed over himself. I think what encourages signing small is the weight of the pen. You tend to sign bigger with a Sharpie because the weight means you have to give your signature space. The last think is that on the Pro Set card, the angle is a bit awkward. Usually you see the angle the other way.
I might think about sending this out to JJ Birden. I would just wonder how it would look if he signed in Sharpie. Might be a bit awkward, but I should find out if he signs first.
Thanks Mr. DeBerg. These get a 5.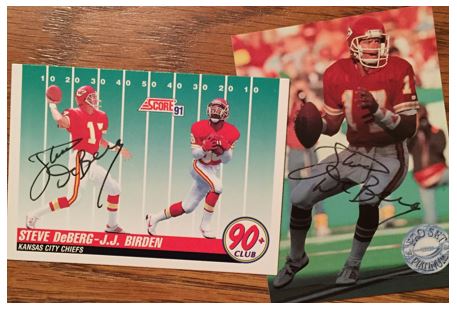 >>> READ MORE ABOUT MY AUTOGRAPH SCORING SYSTEM <<<
Thanks for visiting BravestarrCards.com: Card Collecting and TTM Autographs.