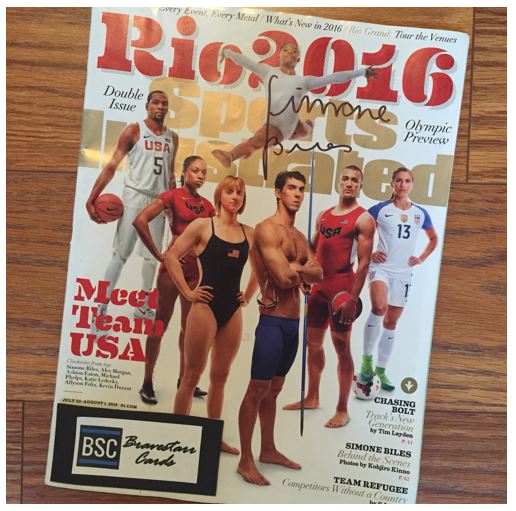 TTM Stats
Sent: 7/29/17 | Received: 8/7/17 | 8 Days
7/25/16 Sports Illustrated
Address: Training Facility (from her website)
The Story of the Autograph
Simone Biles is a whole lot of energy, smiles and absolute toughness wrapped up into one little body. She won the individual all-around gold medal in the 2016 Olympics in Rio. She also won the bronze in the balance beam at that event. But on top of that she is a three-time world all-around champion, three-time world floor champion, two-time world balance beam champion…, plus all of her US titles. That makes her the most decorated US gymnast since Shannon Miller.
You are amazing Simone – keep it up! You'll always have me and my family as fans.
The Score on Simone Biles – 6.5


Wow – Miss Biles is a quick signer – 8 days. I had a little trouble with her address the first time I sent it so I'm glad I got it right this time. She has one of those signatures where you don't know what she starts. With the way the "S" and the "B" are tied together it's hard to tell. I like how much room she used on the magazine though, even though others are on there. I would love to send this out to get more of the folks on here, but I would HATE to lose this one. I probably won't risk it.
Simone gets a 10 for being awesome to her fans which is most important, but I'll give her a 6.5 on my item. Thanks Simone!
>>> READ MORE ABOUT MY AUTOGRAPH SCORING SYSTEM <<<
Thanks for visiting BravestarrCards.com: Card Collecting and TTM Autographs.