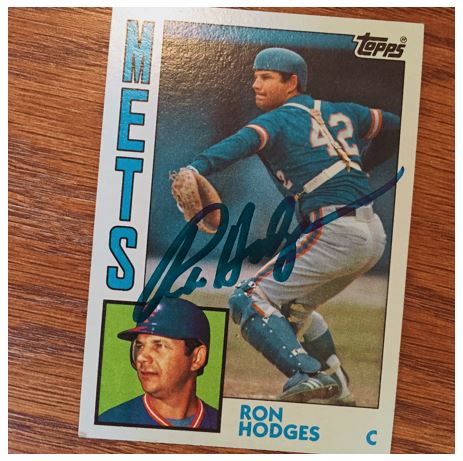 TTM Stats
Sent: 7/15/17 | Received: 7/21/17 | 6 Days
'85 Topps, '85 Topps
Address: Home
The Story of the Autograph
Mr. Hodges spent his entire career with the Mets (12 years). He was drafted by the Orioles, Royals, and the Braves between 1970 and 1971, but chose not to sign with any of them until the Mets came along in 1972. His first season he was with the team for their run to the Series in 1973. After both Jerry Grote and Duffy Dyer were hurt, Hodges stepped in. He made one plate appearance in the '73 World Series and it was a walk.
The Score on Ron Hodges – 5.5


This one gets a 5.5. Ron used a great marker and the blue goes great with the Mets cards (I've noticed I am on a run of blue Sharpies lately). This one is nice and thick, but still clean. He puts the signature in a good place and its a good size. Maybe a more exciting card would help. Another quick one though – Thanks Ron!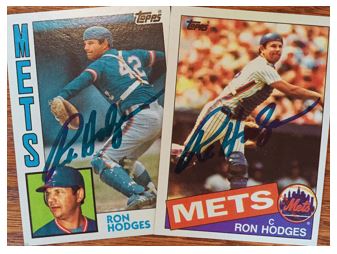 >>> READ MORE ABOUT MY AUTOGRAPH SCORING SYSTEM <<<
Thanks for visiting BravestarrCards.com: Card Collecting and TTM Autographs.