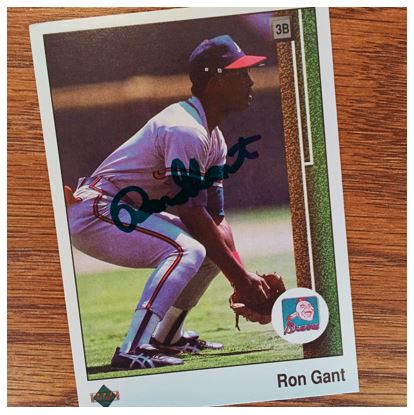 TTM Stats
Sent: 6/16/17 | Received: 6/27/17 | 11 Days
'89 Fleer, '89 Topps Big, '89 Upper Deck, '90 Fleer, '90 Topps
Address: FOX 5 Atlanta
The Story of the Autograph
This is my first success with Mr. Gant. In the past I've never gotten cards back so I think I've found a consistent address. These cards depict Ron as an infielder, but I remember him as an outfielder. In 1990 and '91 Ron was a 30-30 man (30 HRs and 30 SBs). He played for a lot of other teams, but I will always think of him as a Brave. He was an all start in '92 and '95 and won the Silver Slugger award in '91. In the 1991 World Series against the Twins he was involved in some controversy after a apparently successful pick-off move in which Kent Hrbek seemed to coax (read that as lift or push) him off the bag. Sadly Ron was in an ATV accident in 1994 and broke his leg after signing a big contract (the Braves cut him and he missed a year).
The Score on Ron Gant – 4.5


It's kind of funny that I got these the same day as Ken Forsch because their signatures seem a lot alike. Ron's signature is pretty small and not particularly unique. That said, now that I've had success, I'll try to find some more interesting items for him to sign.
I'm giving these a 4.5 after getting Ken Forsch the same day.

>>> READ MORE ABOUT MY AUTOGRAPH SCORING SYSTEM <<<
Thanks for visiting BravestarrCards.com: Card Collecting and TTM Autographs.