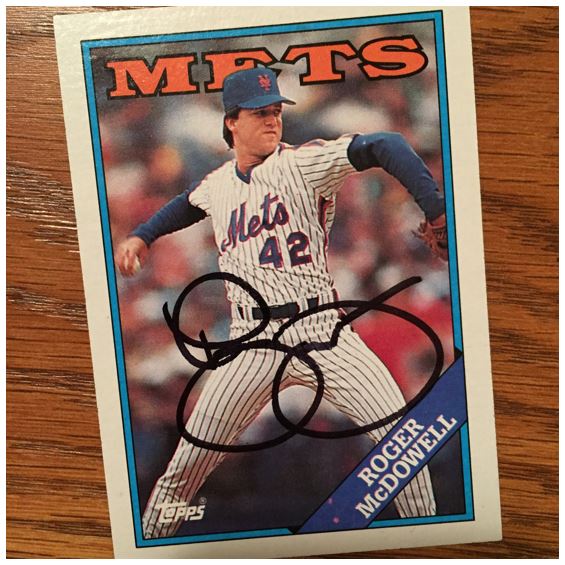 TTM Stats
Sent: 4/22/2017 | Received: 12/9/17 | 227 Days
'88 Topps, '90 Fleer
Address: Team
The Story of the Autograph
Roger McDowell pitched for five teams over his 12 year career: Mets, Phillies, Dodgers, Rangers and Orioles. He worked as a relief pitcher and these days is the pitching coach with the Baltimore Orioles after spending 11 years in the same position with the Atlanta Braves.
I remember Roger best as a Met which is where he started out and spent the first five years of his career. He was a member of the 1986 team that won it all and was the winning pitcher in Game 7. The combo of McDowell, a ground ball pitcher, and Jesse Orosco, a strikeout pitcher, really presented opponents with a challenge late in games against the Mets. In 1986 he pitched in so many close games that he actually went 14-9 while being involved in those 23 decisions. Even when the Mets traded away Orosco, McDowell still shared closing duties with others. After McDowell didn't perform well against the Dodgers in the 1988 postseason, McDowell went on to the Phillies.
Something I remember McDowell for is really being the ringleader for those crazy mid-80's Mets teams. He was quite the prankster and from him and Howard Johnson I learned about "hot foot". He would place a lit cigarette wrapped in a wad of gum inside the heel of a teammates' cleat. He was also in the famous Sienfeld episode called "The Boyfriend" and was the "second spitter" in a spoof on the Zapruder film.
The Score on Roger McDowell – 7.0


I've always loved Roger's signature. It always so loopy and has a lot of flair. I don't know that I've ever seen someone make their capital "R" like that. Then he makes his "g" have such a big bottom and really makes a huge "D" in his last name.
These two cards are pretty good. There are some issues with how the '88 Topps card took the autograph, but it's not too noticeable unless you look really closely. It looks like that one has a little bit of a jerk at the end of the signature that's different than a lot of other cards I've seen from him. Roger always signs well though and always uses a great pen.
Another great return. Thanks Mr. McDowell! I'm giving these a 7.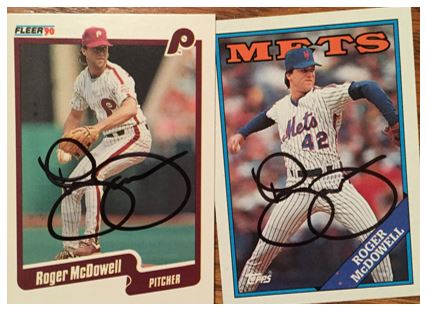 >>> READ MORE ABOUT MY AUTOGRAPH SCORING SYSTEM <<<
Thanks for visiting BravestarrCards.com: Card Collecting and TTM Autographs.