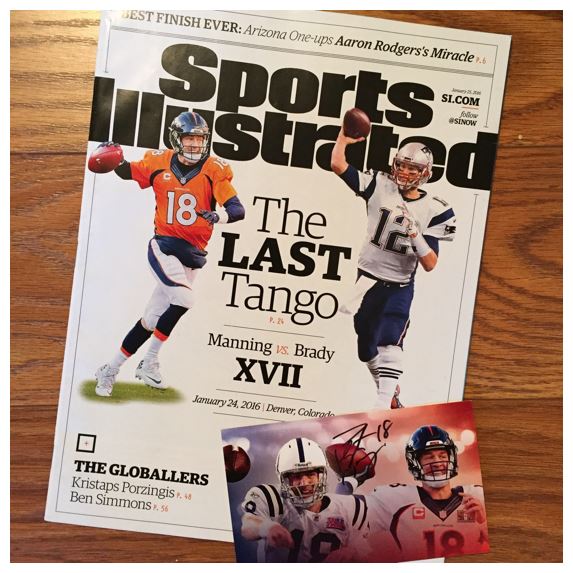 TTM Stats
Sent: 9/7/17 | Received: 9/28/17 | 21 Days
1/25/2016 Sports Illustrated
Address: Peyback Foundation
The Story of the Autograph
I'm not sure if I can really tell you something you don't know about Peyton. Maybe I'll tell you a little bit more about the things I like.
First, I love their family. They all seem like great people. I love the little rivalry that he and Eli have. They love to say what each one is better at than the other. Their Dad and Mom are great, their brother is great. Who knows what skeletons they have in the closet. But I like that they seem like good people.
Second, Peyton is a funny guy. I love how he'll poke fun at himself and he'll put himself out there. The appearances on SNL and the funny commercials just add to his legend really. Everybody is different, but do you really see Tom Brady as that kind of guy. I don't.
Third, he's one of the greatest QBs every. Maybe you don't put him #1, but it's for damn sure that he is right up there in the top echelon. So let's look at what might be his best years from a stats perspective. Just single years to remember what this guys could do, because I can't pick the best one:
2003:  12-4 Record, 67% Comp %, 4267 Yards, 29 TDs, 10 INTs, 99.0 Rating, Pro Bowl, First-Team All-Pro
2004:  12-4 Record, 67.6% Comp %, 4557 Yards, 49 TDs, 10 INTs, 121.1 Rating, Pro-Bowl, First-Team All-Pro
2013:  13-3 Record, 68.3% Comp %, 5477 Yards, 55 TDs, 10 INTs, 115.1 Rating, Pro-Bowl, First-Team All-Pro
I bolded anything he led the league in. Consider that he only played in nine games his last season… he threw for 4000 yards 14 of his 17 years, over 26+ TDs every year but that last one, and had six years with a 100+ QB rating. The only times his team won less than 10 games with him were his rookie year, his fourth year, and his final year where he went 7-2 in 9 starts. In the end he made 14 Pro Bowls, was First-Team All-Pro seven times, and was MVP five times.
But I think this is my favorite Peyton related thing. It's just a joke and doesn't have him in it, but I love it.
The Score on Peyton Manning – 5.5


This one is disappointing only in that I've gotten Peyton to sign a magazine before. He was playing then so maybe its a bit different. I was kind of psyched to send this because I thought the magazine had a great place to sign. And when Peyton signs big he's got a pretty good signature.
This one is in between success and failure. From what I can tell that postcard is signed. That's a plus and appreciated rather than something unsigned. But it would have been cool to have the magazine signed. Something to note is that I didn't send a donation or anything. I'm saving the magazine and maybe if I send again with a donation it will be different. But maybe this is what the foundation does when Peyton isn't around to sign. I might send again.
But for the autograph, it's small and it's not signed in a great place. It makes it hard to read. The picture on the postcard is cool but you would think they could pick something that would show the signature better. That's really where the score comes from on this one. If the medium was a bit better this would have come out better.
But one other thing I'll say, and this goes for the magazine I got back in the past when he was playing too…, both of these came back in 21 days. To me that's impressive for a guy who probably gets a load of stuff. In my experience Peyton was a quick signer and it seems like he still is.
Thanks Mr. Manning, 5.5.
>>> READ MORE ABOUT MY AUTOGRAPH SCORING SYSTEM <<<
Thanks for visiting BravestarrCards.com: Card Collecting and TTM Autographs.