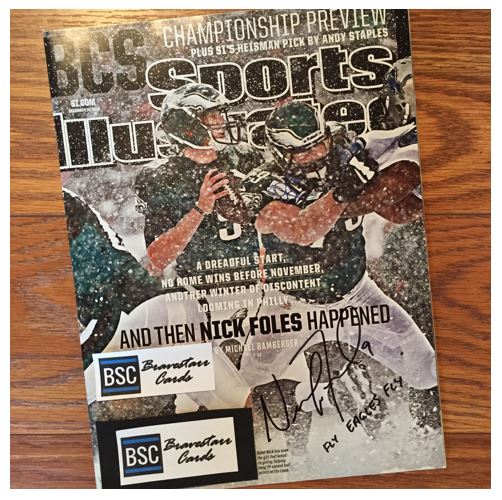 TTM Stats
Sent: 7/31/17 | Received: 9/26/17 | 56 Days
12/1/2013 Sports Illustrated
Address: Philadelphia Eagles
The Story of the Autograph
In his pretty short career, Nick Foles has played with 3 different teams and his already on his second stint with one of them. He came into the league with the Eagles in 2012 and is back with them again as a backup this year. He started his career as a backup after being drafted and played behind Michael Vick. But that only lasted a few weeks as Vick was injured in Week 10 of that year against the Cowboys. He played a couple games until breaking his had against the Redskins later in the year and was replaced by Vick in the season finale against the Giants.
But then 2013 happened. He started out the year in a battle with Vick and Matt Barkley. Vick won the starting battle and started the season. However, Foles would start to see action by Week 4 of that season. He was in and out due to a few concussions from there, but he ended up getting better as the season went on and was the NFL Player of the Month that November. He ended the season with 27 TDs and only 2 interceptions and surpassed Tom Brady's 2010 season with 34/4 for the best TD-INT ration in history. He also ended with a 119.0 passer rating which is third highest for a season. They ended up losing to the Saints in the playoffs and Foles made it to the Pro Bowl.
In 2014 with Chip Kelly at the helm Foles continued as the starter but had lost DeSean Jackson as a receiving option. He helped the team end up in first in the NFC with a 6-2 record but ended the season on injured reserve with a  broken collarbone. Mark Sanchez would finish out the season as the starter. While he had a good season it was nowhere near the season before.
The Eagles traded Foles to the Rams in 2015 when they swapped him for Sam Bradford. Foles played a bit up and down on a bad team and ended up getting benched for Case Keenum, but then won his job back after an injury. Then lost it again when Keenum was healthy. The next year he was upset that the team drafted Jared Goff and the Rams released him as requested.
From there he been the backup in Kansas City and now back to Philadelphia behind Carson Wentz.
In possibly the greatest moment in Foles' NFL career he passed for seven TDs against the Oakland Raiders on November 3rd 2013. The Eagles won the game 49-20. He was the seventh man to do it and those seven TDs currently represent 1/8th of his career touchdown total.
The Score on Nick Foles – 7.0


This is actually my first current football player success in a while. Nick really has a good signature. For starters, it's super big and he uses up a good amount of space.  He used a great marker and it's pretty clean. Great capital letter, but especially that "F" with the backwards top. That part looks really cool. On top of all that, not one but two inscriptions with both his number ("9") and then "Fly Eagles Fly." I really hate hearing that song as a Giants fan, but I can take it when I get back a good TTM.
He personalized it, but that isn't the problem. The only awkward thing is that my name is all the way on the other side of the magazine (I covered it up with the my logo). I don't mind personalization at all, it just looks funny over there  by itself. He also used my full name which I don't know if I've seen anyone do. Usually it's just the first name.
I like it a lot though – thanks Mr. Foles. I'm giving this one a 7!
>>> READ MORE ABOUT MY AUTOGRAPH SCORING SYSTEM <<<
Thanks for visiting BravestarrCards.com: Card Collecting and TTM Autographs.