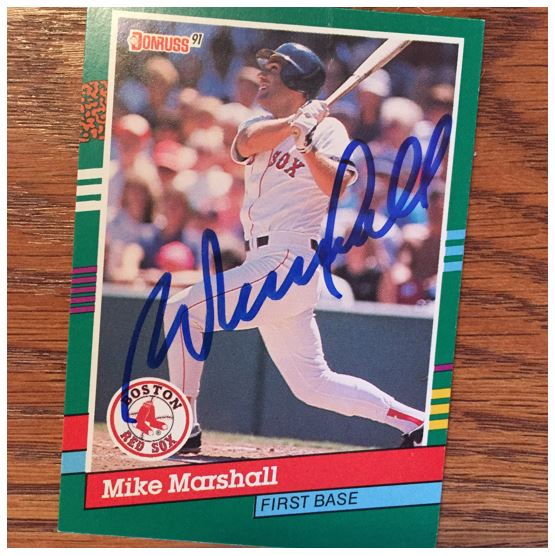 TTM Stats
Sent: 9/23/2017 | Received: 11/16/17 | 53 Days
'90 Donruss, '90 Upper Deck, '91 Donruss, '91 Topps (returned '90 Fleer unsigned)
Address: Home
The Story of the Autograph
Mike Marshall is former outfielder with the Dodgers, Mets, Red Sox, and Angels. He played in the league from 1981 through 1991.
Marshall had a lot of success in the minors and won the Pacific Coast League Triple Crown in 1981 when he hit .373 with 34 homers, 21 stolen bases and 137 RBI for the Albuquerque Dukes. He is one of two Dodgers to have two 20/20 seasons in the minors (the other is Joc Pederson). At the end of that 1981 season he was called up to LA. Marshall actually hit a home run in his first major league at bat. The problem was that he hit it on a line drive so hard that it bounced of a wall and back into the field. Jack Clark got it back in so fast that the umpires thought it wasn't a home run and ruled it a double. Clark later admitted it was a homer.
Marshall had some good success with LA and was an All-Star in 1984 and won the World Series with them in 1988 (he did not play in the 81 World Series).
After his time in MLB, Marshall went to Japan and played with the Nippon Ham Fighters in 1992. Since retiring from baseball he's been involved with different minor league teams in the front office and is the current commissioner of the Pacific Association of Professional Baseball Clubs.
On a more personal note, Mike dated Belinda Carlisle of The Go-Go's.
The Score on Mike Marshall – 5.5


Mike has a pretty solid autograph. It came out pretty good on all of the cards except for the '92 Topps. That one is really just a little to dark to make it effective. All of these have a really good blue marker that cuts through everything though. The only issue with these is if you look at the '90 Donruss and the '90 Upper Deck. The first part of the "M" in Mike is smudged.  I'm guessing that because of where those were placed (further down to the corner of the card) Mike might have put a finger on them when they were a little wet. These still look pretty good though.
Thanks Mr. Marshall. These get a 5.5.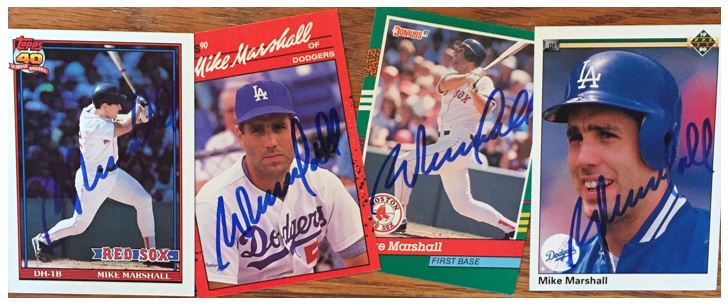 >>> READ MORE ABOUT MY AUTOGRAPH SCORING SYSTEM <<<
Thanks for visiting BravestarrCards.com: Card Collecting and TTM Autographs.