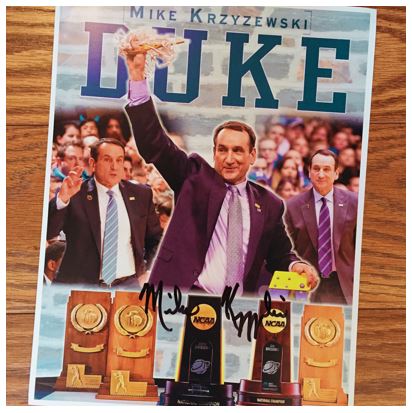 TTM Stats
Sent:  5/27/17     |     Received:     6/5/17     |     8 Days
Sent pre-signed photo (Returned Sports Illustrated 6/23/14)
Address:  Coach K's Duke Basketball Camp
The Story of the Autograph
I'm not a Dukie or a Duke fan, but there's no way you can disrespect Coach K. He seems like he does things the right way. With so many other schools and coaches getting investigated and all that, he just keeps going on and being successful. This one came back fast so I am assuming they just turn it around with a pre-signed photo. That's fine with me, but I guess I'll have to give up on the other SIs I had. Although maybe I'll try sending right to Duke Athletics/Basketball and see how that goes.
The Score on Mike Krzyzewski – 5


Coach K has a middle of the road signature. It's nice and big and I love that given there's room. This is not my favorite picture in the world. I think this one is middle of the road, but I'll take Coach K any day.
I'll give this one a 5..
>>> READ MORE ABOUT MY AUTOGRAPH SCORING SYSTEM <<<
Thanks for visiting BravestarrCards.com: Card Collecting and TTM Autographs.