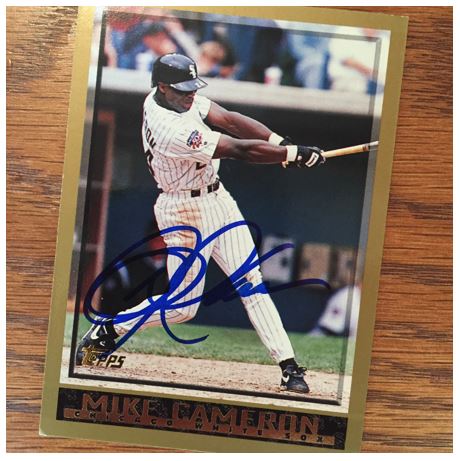 TTM Stats
Sent: 7/15/17 | Received: 7/24/17 | 9 Days
'98 Topps, '04 Cracker Jack, '11 Topps
Address: Home
The Story of the Autograph
Mike played for several teams over his long career.  HE was an All-Star (2001) and won a few Gold Gloves. He is one of only 22 players in history to have 250 HRs and 250 SBs and is the only player to hit two HRs in the same game with 8 different teams. In 2002 he even hit four HRs in one game.
Cameron was a Met for a short period of time. I remember the nasty collision he had with Carlos Beltran where both of them left with concussions. So he could hit and he could steal bases, but he was also a great outfielder.
The Score on Mike Cameron – 8


I really like Mike's signature. If ever there was a signature I would think had a sound to it, this one does. I don't know if that makes sense to anyone else, but I hear one of those old whistles that you can make go up and down. I can't get Mike out of it, but I still like it. Good size signature and everything. And Mr. Cameron is always fast. Thanks!
A strong 8.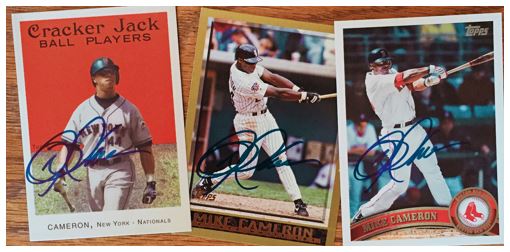 >>> READ MORE ABOUT MY AUTOGRAPH SCORING SYSTEM <<<
Thanks for visiting BravestarrCards.com: Card Collecting and TTM Autographs.