A few weeks ago I had the chance to get to a flea market. It's not something I normally do, but I was on vacation visiting family and we had time. I knew there were a bunch of them in the area so I figured it was a good chance to get one in. Once there it was a bit of slim pickings in general on the card front – a few people had a couple boxes of cards, but there was only one full on card guy.
Oh and was he ever a card guy. I think I heard "mint condition" and "rookie card" a billion times in the few minutes I spent at the table. Not a bad guy, I just don't think he realized that he wouldn't have to talk me into buying anything. He saw my daughter wearing a Mets shirt and started talking to her. After buying a few things he said, "Wait a minute!" He went back into his mini-van (The Mystery Machine?) and pulled out a box that could hold a set, handed it to her and said, "This is all yours kid, see how many Mets you can find!" (I told you he wasn't a bad guy). Well, needless to say we didn't get to far before she handed me the box.
There was some interesting things in there including something I forgot about and something I never knew about.
1996 Leaf Preferred Steel: Remove Protective Film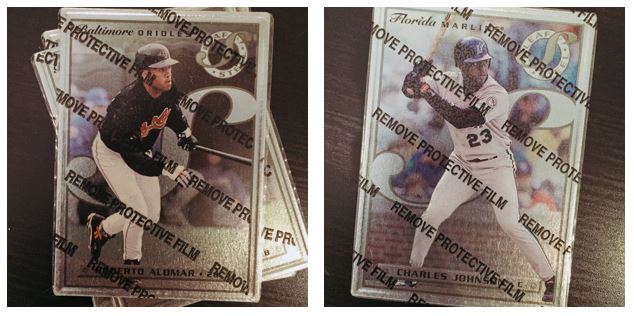 The first thing I found were a few cards (are they cards?) of the Steel insert for the '96 Leaf Preferred set. The Preferred set is a 150 set and each six-card pack included one solid steel card (1:1). I got about 19 cards (10 individual cards) including one Gold Steel card (1:24). It appears they are a sheet of steel with the edges bent around so they aren't sharp.
The design is just OK. I think the selling point is the steel (obvi). The player sticks out from the background, but it seems they put more effort into their logo as that's bigger than the team name or the player name. It's somewhat generic though all around.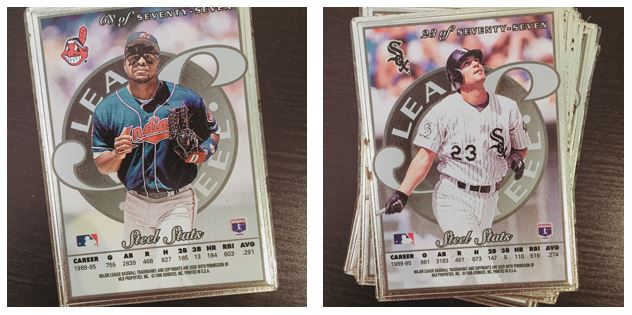 All that said, I really like the backs of the cards. Maybe I should have taken the "protective film" off of the front. The backs are nice and clear and I don't mind the logo so much. After looking into my collection I did have a few of these hanging around (without the protective film).
1996 Topps Laser: Sharks with Frickin' Laser Beams on Their Heads
1996 Topps Laser is something I had never seen before and never even knew about. Basically it's a die cut card. Every card in the 128 card set features a unique design with a portion of the card being cut out with a laser. Unique means the designs cut into each card are interesting, not that they are all different as a couple of the cards I had were with the same design. It's a good idea, but unfortunately it was the 90's so the cards look a bit cheesy.
It took me forever to figure out Derek Bell's card.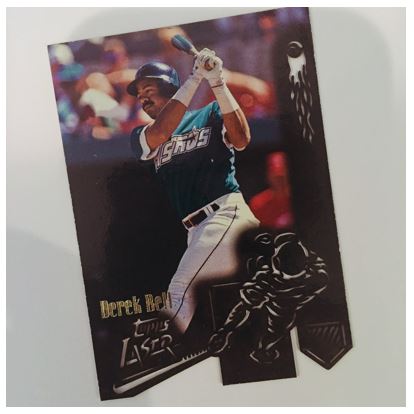 After staring at it for a while I finally figured out that hit was a batter in the box viewed from above.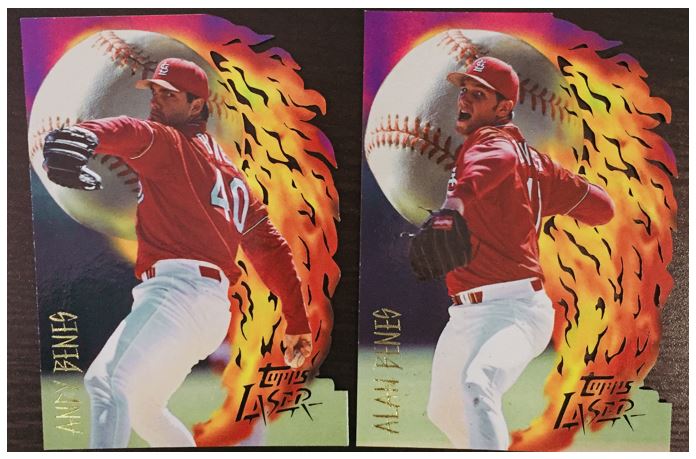 My favorite cards were of the Benes brothers. As you can see "unique" design is not by card. After seeing these and then a few other of his cards, I noticed Alan Benes always has his mouth open while pitching. And on the other hand, like his serious face.
You never know what you will find at the flea market, but there's always something interesting.