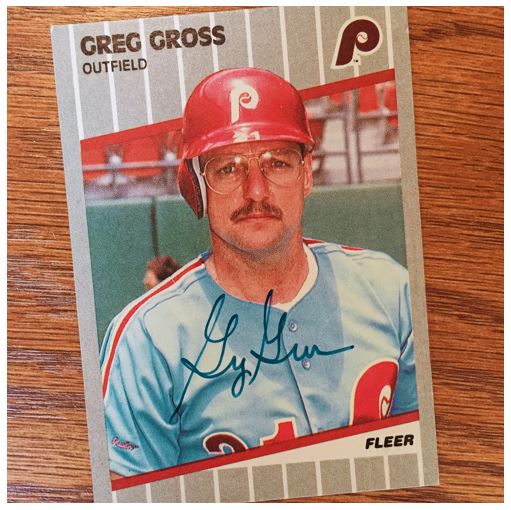 TTM Stats
Sent: 7/7/17 | Received: 7/20/17 | 13 Days
'84 Topps, '85 Topps, '88 Fleer, '89 Fleer, '89 Topps
Address: Reno Aces
The Story of the Autograph
Greg Gross played for four teams but spent most of his time with the Phillies. During that time he became a great clutch pinch-hitter and hold the team record for career pinch hits with 117. He's also fifth on MLB's career list with 143.
All that said, he didn't have much luck in some of the post season series he played with the Phils. His best was in the '80 NLCS where he went 3-4 with an RBI in 4 games – all pinch hits. And with the '80 Championship, this is another World Series winner I can claim in my stacks of autos!
The Score on Greg Gross – 6


I like these capital "G's". He used a great thin, blue Sharpie on these and I like the way it shows the pressure he used in places. Seeing all the cards together you can really see how he thinks about where he is signing. I think the '85 Topps and the '89 Fleer are my favorites. The blue goes surprisingly well with the blue Phillies uni too.
Three points for each capital "G"… 6.

>>> READ MORE ABOUT MY AUTOGRAPH SCORING SYSTEM <<<
Thanks for visiting BravestarrCards.com: Card Collecting and TTM Autographs.