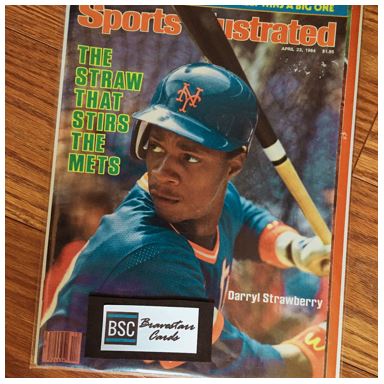 My friend came home from a little time off with the family and told me he left a gift for me in my mailbox. And what a gift it was. I opened up my mailbox to find good ol' Darryl Strawberry getting ready to take a swing.
The Legend of Darryl
I can still hear the Darryl chants echoing around Shea… See that long and loopy swing (one of the smoothest things I've ever seen)… Hear the crack of his bat…
Back when this magazine came out, Straw was probably a little over 150 games into his major league career and had just come off of his NL Rookie of the Year '83 season (26 HRs, 7 Triples, 74 RBI, 19 SBs and a .257 Avg). When you look back at his stats you can see what a monster this guys was. He was amazing!
And this magazine was right at the start of his first of 8 consecutive All-Star seasons. He would hit more than 25 home runs in every one of those years, topping out at 39 in consecutive years ('87 and '88). And he was nearly a 40-40 guys in '87.
The Fall of a Hero
And just think of what you could have seen if the substance abuse and all that hadn't gotten in the way. I'm not going to pretend to know that I know when exactly that started and impacted him. His last All-Star season was his first in Los Angeles with the Dodgers in '91. After that he broke only 10 HRs twice more, both as a Yankee (11 in '96 and 24 in '98) when he helped the Yankees to three consecutive Championships. His injuries (and whatever) wouldn't allow him to get through much of a season after '91.
In 1998 he was diagnosed with colon cancer and tried to make a comeback in 1999, but only got in 24 more games.
Straw was pretty amazing to watch and is one of the ultimate examples of what could have been (especially because of how much longer he tried to keep his career going). I'll take the '83-'90 he had for my team any day of the week though.
Thanks to my good friend and neighbor for thinking about me on his trip. I'll have to find a way to return the favor sometime.