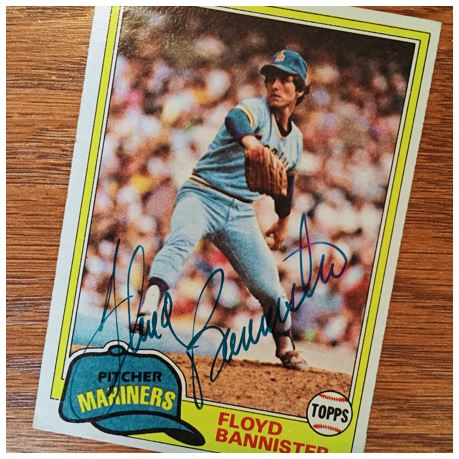 TTM Stats
Sent: 6/9/17 | Received: 7/20/17 | 41 Days
'81 Topps, '85 Topps, '85 Topps, '88 Topps, '89 Topps
Address: Home
The Story of the Autograph
Floyd Bannister was a one-time All-Star in 1982, the same year he lead the league in strikeouts. He pitched for seven different teams over 15 years including the Yakult Swallows in Japan in 1990 before returning to the US. Floyd was always a solid pitcher but never played for a great team. He could strike you out, but he was also susceptible to the home run (kind of sounds like guys today – he'd fit right in).
The Score on Floyd Bannister – 7


Another great thin blue Sharpie. There's great size to these signatures and he put most of them in a great legible place. Floyd almost has a signature that is straight out of a Microsoft stock font or something like that. I would love to see this on a nice clean baseball. I like his auto, great job!
Floyd "the Bannister" gets a 7.

>>> READ MORE ABOUT MY AUTOGRAPH SCORING SYSTEM <<<
Thanks for visiting BravestarrCards.com: Card Collecting and TTM Autographs.