TTM Stats
Sent: 7/19/17 | Received: 8/22/17 | 33 Days
'88 Donruss, '90 Fleer, '90 Topps
Address: Boston Red Sox
The Story of the Autograph
Chili Davis is a Jamaican-American player and currently is the hitting coach for the Boston Red Sox. He played for five different teams and with the Angels twice. I think I remember him best with the Giant and Angels. He was part of World Championships with the Twins in '91, and the Yankees in '98 and '99. He was a pretty good hitter and had three All-Star seasons, two with the Giants and one with the Angels. He started as an outfielder, but because of some defensive issues and back problems he moved to DH and remained as a DH for the rest of his career from Minnesota on.
But the question on your mind is, "Where does the name Chili come from?" Like many name it goes back to his childhood. His father gave him a bad haircut and the neighborhood kids teased him because it looked like they used a chili bowl and the name stuck. Also worth noting is that this is the third Jamaican born player I've gotten a TTM from recently (Devon White and Justin Masterson are the others).
The Score on Chili Davis – 2.5


I have another TTM from Chili, but I got it so long ago it must be buried in a box. I really don't remember his signature being like his. In some ways I would refer to it as a squeezed together accordion. He definitely uses more vertical space than horizontal. It's not the worst signature I've seen, but it's definitely lacking. I certainly appreciate that he signed and in a reasonable amount of time. He used a good pen and the size is pretty good. It's just not up to par with some others.  Thanks Mr. Davis, sorry for the low score… 2.5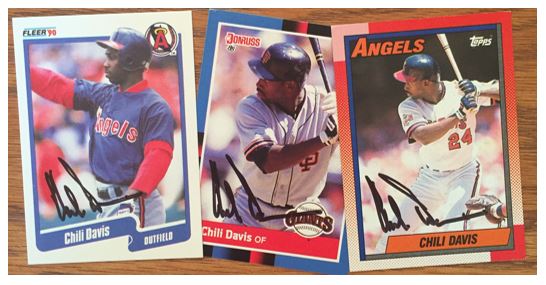 >>> READ MORE ABOUT MY AUTOGRAPH SCORING SYSTEM <<<
Thanks for visiting BravestarrCards.com: Card Collecting and TTM Autographs.