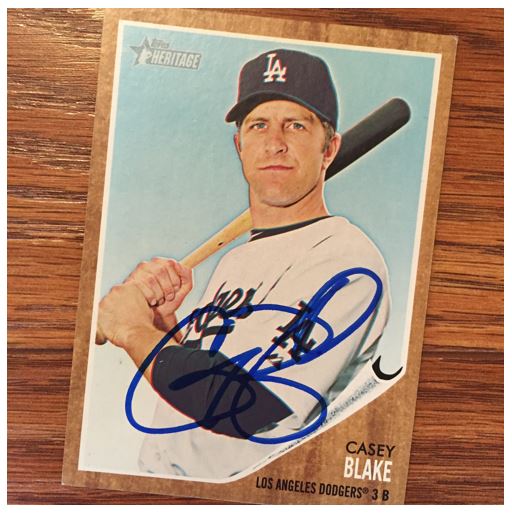 TTM Stats
Sent: 7/15/17 | Received: 7/29/17 | 14 Days
'10 Topps Heritage, '11 Topps, '11 Topps Heritage (Returned '08 Topps Unsigned)
Address: Home
The Story of the Autograph
Casey Blake played for 6 different teams in his 13 year career. He's probably best remembered with the Indians and Dodgers as he spent the majority of his career with those two teams. Once he broke through with the Indians in 2003 and got regular playing time he was a pretty consistent player. His best season was probably 2004 with the Indians (.271, 28 HRs, 88 RBI). He had a couple good years with the Dodgers before various injuries limited his games and the Dodgers let him go.
I think the favorite part of what I've read about Casey is that he used to grow his beard simply because he didn't like to shave. That's exactly like me.
The Score on Casey Blake – 7


Mr. Blake gives you a really good sized signature. I like how you can pick out the capital letters in his name from the signature, but the rest of it is a bit garbled. I think something that I really like is that he signed in blue (like everyone else lately). And of course these cards all give you that Dodger blue. It's actually too bad the Heritage cards dull the blue a bit. Still, those '11 Heritage cards are so great for autos.
All in all Casey has a pretty solid signature and I'll give it a 7. Thanks Casey!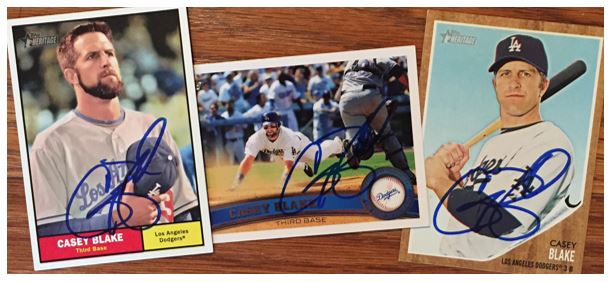 >>> READ MORE ABOUT MY AUTOGRAPH SCORING SYSTEM <<<
Thanks for visiting BravestarrCards.com: Card Collecting and TTM Autographs.