TTM Stats
Sent: 10/7/17 | Received: 11/3/17 | 26 Days
'94 All Sport, '94 Upper Deck
Address: Atlanta Falcons
The Story of the Autograph
Bryant Young was a force on the San Francisco 49er defensive line for fourteen year (1994-2007). After being drafted in the first round out of Notre Dame, Bryant played defensive tackle for the 49ers. Today he coaches the defensive line for the Atlanta Falcons.
Mr. Young started for three years in college for the Fighting Irish of Notre Dame and he lettered all fours years he was in school. In his senior year he was made an All-American selection and posted 6.5 sacks and 67 tackles. His junior year wasn't anything bad either with 7.5 sacks and an Honorable Mention Al-American selection.
The 49ers drafted him 7th overall in the first round of the 1994 NFL Draft. Playing alongside guys like Dana Stubblefield he would have some really great years.  1996 stands out as maybe his best with 11.5 sacks, 84 tackles, 4 passes defended, 2 safeties and a Pro Bowl selection. In 1998 he had 9.5 sacks when he suffered a season ending injury where he needed a metal rod inserted for his broken leg. But the next year he came back with 11 sacks and safety, his second Pro Bowl of his career and the NFL Comeback Player of the Year Award.
D-lineman, especially the interior lineman, don't always get a lot of credit. But Bryant's numbers tell it all. The guy was a force inside and he was recognized for it as part of the 1990's All-Decade Team. He's still among the career leaders in sacks for the 49ers franchise.
The Score on Bryant Young – 9.5


This might possibly be my favorite autograph of the year.  That's just from the standpoint of the autograph itself. I love the big loops that those "y's" and "g's" him work in there. Plus the big number inscription on there as well. Bryant might also use the absolute best marker you could use. It's either a brandy new Sharpie, or it's one of those mid-sized Sharpies. This is just great all the way around. They came out great on these cards and it's really sharp.
Thanks Mr. Bryant. These get one of the highest ratings this year for me… 9.5!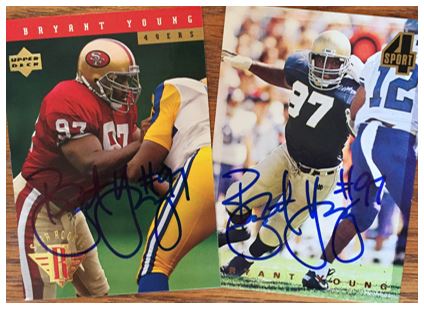 >>> READ MORE ABOUT MY AUTOGRAPH SCORING SYSTEM <<<
Thanks for visiting BravestarrCards.com: Card Collecting and TTM Autographs.