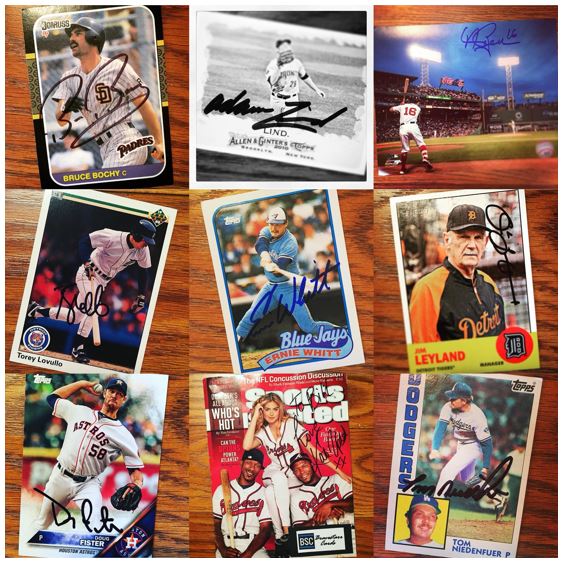 If I had to pick my best nine for myself (and I'll do that and more in the coming days), I don't even know if any of these would be in it. But that's what I like about these things. It makes me think about why these showed up and what got them to the best nine. This is a look back at #mybestnine on my @bravestarrcards Instagram account.
I think it's a combination of many things put together. First, I think some of it is all about timing. For instance, maybe it's the day I posted or the time of day I posted. Second, and also related to timing, I think it really mattered what was happening around the time of year I posted. Third, I started tagging things with the city and team so there are definitely cities and fanbases that have represented their teams (You go Toronto! You'll see).
So here they are, my best nine from Instagram…
Bruce Bochy
Bruce probably gets some love from two cities. He was pictured in a San Diego uniform so that's what I tagged. But I don't think helping lead a team to a few championships discouraged any San Franciscans to not give a like to Bruce in a Padres uniform. I'm pretty sure another piece of the puzzle with this one is that I posted on Christmas day. I would bet that there were plenty of folks in their phones to avoid crazy Aunt Phoebe in her ugly Christmas sweater. I would also bet that Bruce's amazing 'stache helps too.
Adam Lind
Lind was pictured in a Blue Jays uniform, but what I like best is this is one of the rare black and white pictures I did. I think the Allen & Ginter card really fit using that filter. But in the end, this might be one of my favorite autographs that appears in this top nine. This is where you see how Toronto really gives their players some love, but there will be more later.
Andrew Benintendi
I think current players always get a little more love these days based on who is following me. Actually I can guarantee that based on the way that I've noticed some folks that follow me like certain posts. But I also think the Hamilton-style "A. Ben" signature was a nice touch too. I happened to see Hamilton this summer and I love the soundtrack so that helps it out for me. Also helping this on out is that it's not a card so it was something a little different to appear on my feed with the 8×10.
Torey Lovullo
This one confused me a little bit, but I think I narrowed down why it shows up. First, I tagged Detroit and you'll see by others on the list, they like to show their guys love. Second, this appeared on my feed around the time of the playoffs and with the Diamondbacks starting out in the Wild Card and then Torey winning NL Manager of the Year, I think that all helped this post out.
Ernie Whitt
This one, like Adam Lind, shows how the Toronto folks are representin'. Ernie was a Blue Jay for what seemed like forever. What I like about Ernie is the classic and consistent signature he always delivers. I've gone back for more signatures from Ernie before and I know I'll do it again. If you have his cards, and you are getting into the TTM game, send one his way in the beginning. It's a great way to get some success under your belt.
Jim Leyland
Detroit shows respect to a guy that did a lot for them. I think it helps that he's got a great signature and he lays it on there in a non-traditional direction. I think I have maybe a card with him signing the traditional direction, but usually Jim is good for something sideways. Those darn Heritage cards always look really good with an auto on them.
Doug Fister
I love Doug's signature. I don't know if it is in my best nine of signatures, but it's damn good. What I think helped Doug was a Houston-related tag and more people finding it that were rooting for the 'Stros in the Playoffs and the World Series. I'll take it and I'm sure Doug would too. This is another great card that was just waiting for a signature with the way it's designed.
Kate Upton
I think there's an obvious reason, and then a little less obvious reason for this appearing on the best nine. First, it's Kate Upton… 'nuff said. But second, it was around the playoffs and with Justin Verlander playing well, Kate was in the public eye a little more. Something I think someone commented on that I didn't pick up on was that when I posted I was referring to Justin Verlander, but Justin Upton is in the picture.
Tom Niedenfuer
I think this was another that benefited from the Dodgers playing so well and making it to the World Series. With the Dodgers playing and then tagging LA and the Dodgers, that definitely helped this one out. Otherwise, I am not so sure what makes Tom Niedenfuer so liked. I'm sure he's a nice guy and all, but…
Some other posts made a push at the end of the year and some of that was all based on followers that I gained throughout the last six months. Honorable mentions to Joe Ferguson, Wilson Ramos, and Brian Dayett posts that just missed the cut.
Thanks for a Great Year!
To the followers on Instagram and to the regulars checking in on the blog, Thanks! Thanks for following, for liking, for commenting. I started this up again to have fun for myself and I'm hoping that I can bring in a little fun for folks finding my social media accounts and the blog. It's nice to see that people are interested. Here's to a good start (or restart) in 2017 (just speaking for my blog) and hoping that 2018 is even better.
If you liked what you saw here, give me a follow @bravestarrcards on Instagram.