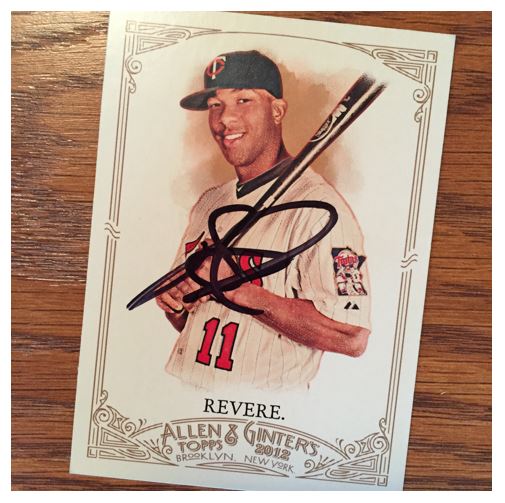 TTM Stats
Sent: 9/8/17 | Received: 9/26/17 | 18 Days
'12 Topps, '12 Topps Allen & Ginter
Address: Los Angeles Angels
The Story of the Autograph
Ben Revere has been in the Major Leagues since 2010 and has played with five different teams. I think most notable of those were the Twins who he started his career with and the Phillies after that. He's got speed and defense, but definitely struggles in the power department. Really I find him kind of a prototypical small center fielder.
He wasn't remarkable to for the Twins, who had Denard Span ahead of him on the depth chart, but did once have a 21-game hitting streak and ended 2012 with a .294 average. He was then traded to Philadelphia he had some of this best years as he got some more playing time and definitely continued to excel in the field. One story I like from his time in Philly was that he put some tape on his glove that said "Pray for Boston" after the Boston Marathon bombings. He had some really great comments and he later said that his phone was ringing off the hook with thanks for the gesture. He's also a bit of a history buff and would explore the sites in Philly.
Since Philly there hasn't been much to speak of. I live in Virginia and with the Nats in town I get to hear a lot of that talk even though I don't root for them. I think that was a bit frustrating of a year for the Nats as Revere got hurt early in the season and never really picked up his game. Then the team didn't end up picking up his contract.
Ben seems like a hardworking player and is described as genuine and charismatic. He's also described as being goofy and keeping things loose. From what I've seen while he might not be the best player, he certainly seems like a great teammate and a great guy.
The Score on Ben Revere – 3.0


This one is a bit of a jumble. I feel like if I try I can make out his initials. But now that I am looking at them together, I don't know what I can make out because they are both different. He used a good marker and it's clean. I'm just not sure what I can really give this effort. I'll have to go back and look to see what I've gotten from him before, but I feel like it was a bit different.
Thanks Mr. Revere, but the score is only a 3 for these.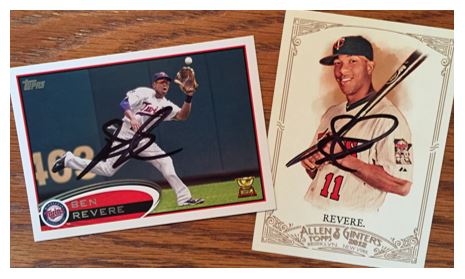 >>> READ MORE ABOUT MY AUTOGRAPH SCORING SYSTEM <<<
Thanks for visiting BravestarrCards.com: Card Collecting and TTM Autographs.