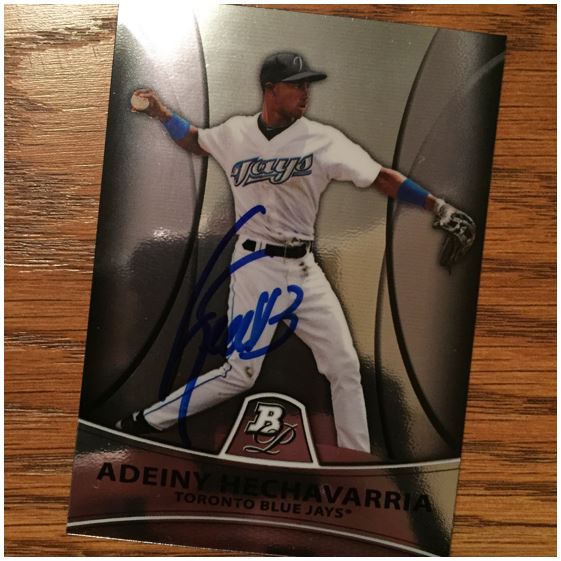 TTM Stats
Sent: 1/2/2017 | Received: 1/16/18 | 14 Days
'10 Bowman Platinum
Address: Home
The Story of the Autograph
Adeiny Hechavarria is a Cuban-born shortstop currently playing for the Tampa Bay Rays. Originally signed by the Blue Jays in 2010, he didn't spend stay in Toronto long. After spending a few seasons in the minors, he came up in August of 2012. Then in November of that year he was traded to the Marlins in the trade that sent Mark Buehrle, Josh Johnson, Jose Reyes and others to Toronto.
He played played four and a half season for the Marlins before being traded this year to the Rays. He played more than 130 games a year (until this year) during his time in Miami. His batting average improved every year during that time until 2016 when it dropped almost 50 points. He brought it back up a bit this year (+30 points) with his time split between the two teams and being injured. I don't know what the change was that made 2016 so difficult for him at the plate because he got more playing time than he ever had. Maybe the coaching change (to Don Mattingly and his staff) impacted his approach.
He's never been a stolen base threat (11 in a year is his high). In fact, he was seventh in caught steeling with 10 in the year his set his career high. Not a great percentage. He's never been a power threat either. What I do find interesting about his power is that he had never hit more than 5 in a season. Then after being traded to the Rays he hit seven this year in 77 games (8 for the season).
The Score on Adeiny Hechavarria – 6.0


I usually don't send out chrome or really high gloss cards out. Sometimes I just don't have anything else for someone to sign. I had made a few attempts for Adeiny and I wasn't left with much to send him so this was it. I decided to try the eraser trick and it looks like it worked really well. The hard part was getting it off. When you rub it on you put streaks on the card and I didn't really want that on there. I don't know if rubbing it off kills what you do when you first use it, but this one worked.
As for the auto, Adeiny has a pretty short signature for a really long name. (Side Note: I've always imagined Harry Caray having a lot of fun/trouble with his name. Not sure why, but it's probably more of the Will Ferrell version of Harry Caray that I'm thinking of.) But from what I've seen, this is pretty consistent. I just really like the way it came out on this card.
Thanks Mr. Hechavarria! This one gets a 6.
>>> READ MORE ABOUT MY AUTOGRAPH SCORING SYSTEM <<<
Thanks for visiting BravestarrCards.com: Card Collecting and TTM Autographs.
Information gathered from Wikipedia and Baseball Reference.